Sony is one of the several AV receiver manufacturers that organize their lineup of home theater receivers in two categories. The entry-level category consists of 4 affordable models released in 2013 along with several older models. With prices ranging from around $280 to $600, you get to decide if you want to spend more on power and extra features or go for something that is good enough for a basic home theater setup. The ES family of AV receivers consist of more expensive AV receivers with more connection ports and support for custom installation. But if you are not a fan of home automation or have no idea what it is, it is normally best to look at the entry-level receivers since the target market is average consumers anyway. But if you are looking for a powerhouse without breaking the bank, you should take a closer look at the Sony STR-DA1800ES which is the cheapest ES model but only costs $700.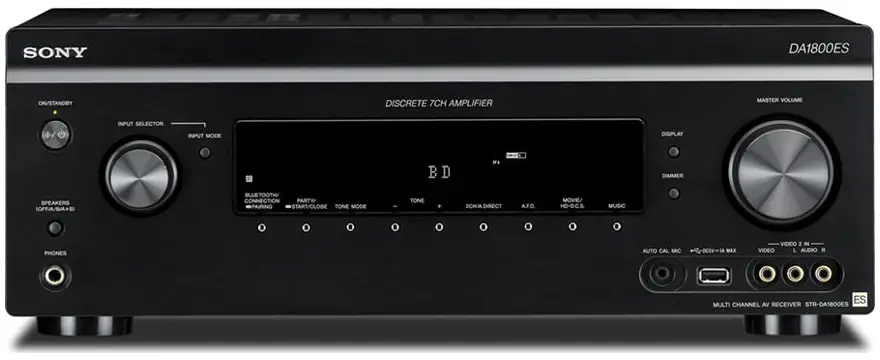 Design
Unlike the clean and minimal-looking entry-level Sony home theater receivers, the Sony STR-DA1800ES has a busier design with more front panel ports and classic look so home theater enthusiasts will feel right at home. What is a bit surprising is the lack of an HDMI port on the front which could have made things considerably easier for people to hook up portable devices such as smartphones, tablets and digital camcorders. But as a whole, the Sony STR-DA1800ES is pleasing to look at and certainly looks like a receiver for enthusiasts.
There are also a lot more connections found on the back of the STR-DA1800ES. The arrangement shows that the Sony STR-DA1800ES is the receiver to get if you have plenty of HD components that you wish to hook up. With 6 HDMI ports, you can hook up all of the next-generation gaming consoles and still have room for essentials like a Blu-ray player. You can also hook up older components such as a DVD player and cable box as there are a couple of component video inputs and outputs. 2 HDMI outputs highlight the receiver's support for Zone 2 as well.
Below is the back panel layout. Click on image to enlarge for a clearer view.
Features
Although the Sony STR-DA1800ESis the only ES model that lacks the Control4 home automation support, the STR-DA1800ES still deserves to be in the ES family because it remains certified with other leading control systems and it has the necessary RS232C, IR Remote and Trigger Out connection to expand the custom installation possibilities.
The rest of the features are quite similar to the newer Sony STR-DN1040 which is the most advanced model of the Sony's entry-level receivers. Switch the receiver on and you will see a nice graphical user interface that makes it very easy to do things like change inputs, adjust various settings and check out the volume levels of each source. There is also an on-screen wizard that you should run first so you can quickly set up your speakers and immediately move on to enjoying your content.
Setting up the speakers is surprisingly the fun part because the Advanced Digital Cinema Auto Calibration demonstrates how simple it is to make all the speakers sound their best regardless of the speaker positions. Like other calibration systems, the process involves placing a microphone on the preferred listening spot. The speakers will use the microphone to calculate things like the distance and delays so the speaker attributes can be adjusted accordingly.
The Sound Optimizer feature is a nice extra feature to use if there are times where you have to keep the volume levels low. This feature works with dynamic sound effects in such a way that you can still hear all the necessary audio details even at lower volume levels. At higher volume levels, the sound stays excellent and the 100 watts for each of the 7 channels translates to clear music reproduction. Adding front high speakers to add vocal height is also supported so those action-packed movies sound more realistic.
The Sony STR-DA1800ES is also quite rich in video enhancements. The most significant enhancement applies to older input sources like analog connected devices. These sources can be upscaled to high definition levels so they can properly output to the HDMI-connected display. It also features support for 24 fps Blu-ray content and 4K pass-through which is required if you want 4K content to reach the next-generation 4K displays. With the second HDMI output, it is possible to hook up another display such as a projector. The interface makes it easy to toggle between sources or output high-resolution video to both displays simultaneously.
With built-in Wi-Fi and Bluetooth, the STR-DA1800ES can be considered as a complete Internet and networking companion which can be really great to have if you don't have a "Smart" TV or a gaming console hooked up. Internet features include support for popular music streaming services like Music Unlimited, Pandora, vTuner and Slacker.
Network connectivity adds a new possibility to interact with the Sony STR-DA1800ES. Sony developed a special app called Media Remote which gives Android and iOS devices a separate control interface so you can adjust the volume or change input settings remotely even if you can't see the TV. With AirPlay support, iOS users get the lucky benefit to quickly stream music from iOS devices wirelessly. Bluetooth functionality also means that virtually any Bluetooth-enabled device can stream music to the receiver. Of course, the front USB port is always available if you prefer the traditional way in playing back the music collection stored in your iPod, iPhone or iPad. Remember, this type of connection charges the device too since the USB port is powered.
Bottom Line
The Sony STR-DA1800ES may not seem like a compelling option if you are not interested with the custom installation aspects of this receiver. The $600 entry-level STR-DN1040 is a bit more powerful and has 2 extra HD inputs but the receivers in the ES family have another benefit and that is warranty. With a 5-year limited Sony warranty, the Sony STR-DA1800ES is simply superior in terms of overall design and it is more likely to last longer since the warranty covers parts in addition to labor.