Onkyo has long before cemented its status as an iconic brand for home theater receivers and the company intends to keep that image by keeping their lineups fresh from the entry-level to the most advanced and everything in-between. In fact, that "everything in-between part" is starting to matter a bit more as technologies get cheaper resulting to some people willing to pay just a bit more to push themselves near that audiophile level of experience. Not everyone is willing to pay $2,000 for that experience but at the $1,300 level, it would have to depend on the current players competing that and Onkyo happens to be one of them. It is putting the Onkyo TX-RZ810 in charge and it is a pretty strong contender.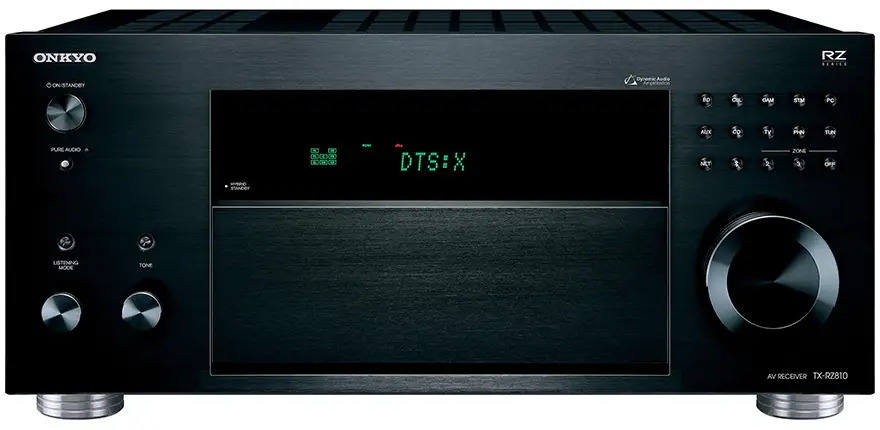 About the Onkyo TX-RZ810
The Onkyo TX-RZ810 is the latest high-end member of the Onkyo RZ family of home theater receivers. This makes it separate from the more consumer-focused NR series as the RZ models exclusively have the necessary inputs and outputs to allow custom installation. Although the Onkyo TX-RZ810 is similar to the Onkyo TX-RZ710 in a lot of ways, the $300 price difference is quite the gap and it is primarily due to the few but significant differences.
It starts with the solid aluminum front panel construction which feels far more premium than the TZ-RZ710 and TZ-RZ610 models which are still built pretty well but lack the industrial flair an audiophile would expect. All of the new models in the 2016 family of Onkyo RZ receivers have the same number of HDMI ports (8 in / 2 out) but the TX-RZ810 also has a pre/line out for Zone 3 audio. Finally the Onkyo TX-RZ810 is simply more powerful with 130 watts to spare and that's an important consideration if you want to really max out the power of a full 7.1-channel setup or decide to go with a Dolby Atmos setup without much compromise.
With the Onkyo TX-RZ710 being the most affordable receiver in the RZ series to get THX certification, it is no surprise that the TX-RZ810 has it as well. It is THX Select2 Plus certification to be more specific which makes the receiver ideal for a medium sized living room of up to 2,000 cubic feet.
Below is the back panel layout. Click on image to enlarge for a clearer view.
Comparison with the Onkyo TX-RZ800
In the previous year, it was the Onkyo TX-RZ800 that had the spotlight and it too boasts THX Select2 Plus certification so with the right price, the Onkyo TX-RZ800 can be a pretty attractive buy as well. However, the Onkyo TX-RZ810 does have a few noteworthy improvements and they mostly benefit audio performance.
Onkyo receivers are best known for their AccuEQ technology which is the driving force behind the receiver's vigorous calibration process. It works pretty well and with the TX-RZ810 it works even better thanks to the new AccuReflex feature. It only applies if you have upfiring height speakers and compared to the older model, the annoying sound delay is resolved. Those object-based soundtracks now sound like the sound is coming from every single speaker all at the same time.
Onkyo is no longer hyping up the WRAT or Wide Range Amp Technology which has been omnipresent across Onkyo receivers for years. Instead, the company is promoting dynamic audio amplification as its approach for cutting down on the distortion. This is basically Onkyo saying that there are some upgraded components under the hood and everything should sound better.
The improvements are not solely focused on internal hardware and audio performance though; the Onkyo TX-RZ810 has a couple of new networking tricks too. If you are a Tidal subscriber and already downloaded the latest firmware, you can stream Tidal's exclusive lossless audio tracks directly from the receiver. If you own one of the few wireless speakers that support Blackfire's FireConnect protocol, you can wirelessly link the speaker to the TX-RZ810 as well. Google fans will like the added Google Cast support too. Finally, the Onkyo TX-RZ810 is backed by a cool 3-year warranty which highlights the company's confidence in their new audio products.
Other Features
The TX-RZ810 fully support today's video technologies so anything that is currently out today whether it is PlayStation 4 or the latest HDR-enhanced 4K display should be able to play nice with the Onkyo TX-RZ810. All HDMI ports have the latest standards and 2.0a specifications and that's important if you hope to play back HDCP 2.2 protected content or simply watch stuff or play games at 4k/60 Hz.
Onkyo, along with other home theater receiver manufacturers, is still pushing the idea of having additional ceiling speakers. Dolby Atmos provides the necessary technology in making those types of setups sound a bit closer to what you would hear in an actual movie theater. Since you are limited to a 7.2-channel setup, won't be able to make the most out of Dolby Atmos as you only have 2 channels to spare for the ceiling but it is something to consider if you really want to hear sound coming from above. If you cannot use ceiling mounted speakers, there is always the upfiring speaker approach. You can also use DTS:X too which has a similar concept and you can place the speakers anywhere you like and get a nice virtualized effect.
Performance
The TX-RZ810 lives up to the subtle performance improvements and ends up being the definitive choice if you really do plan on going the Dolby Atmos route. It might be tough to get a noticeable difference when compared directly to its predecessor but having less distortion at higher volumes is always welcome. Plus if you haven't owned a recent Onkyo model, you will also appreciate how analog signals process because the recently introduced Vector Linear Shaping Circuitry (VLSC) helps a lot.
Conclusion
Pros:
• Solves the delay issues common in early Dolby Atmos setups.
• Very good audio quality.
• Improved networking features thanks to Google Cast and Tidal integration.
Cons:
• A minor upgrade at best.
Verdict
The Onkyo TX-RZ810 is all about refinement this year so while it isn't the kind of receiver one would want to buy if they are upgrading from an older $1,000 receiver, it is still a solid performer that should hang well with the current competition.