People that are looking for a decent audio experience for their home theater system don't have to spend more than $600 on a home theater receiver. Denon's AVR-X2100W is a good example because it has more than enough features for the typical movie lover including Wi-Fi and Bluetooth streaming, 8 HDMI ports and multi-room listening. On top of that, the receiver is a 7.2-channel one with support for 4K displays so even when upgrading your home theater, this $599 receiver should still feel right at home. The fact that these affordable receivers are so good and futureproof make it a little bit tricky for these companies to promote their higher-end products. But Denon, like other big brands, have enthusiasts to cater to. The Denon AVR-X3100W is a step up from the AVR-X2100W and while it doesn't enter audiophile territory, it offers higher maximum power per channel with a more advanced calibration system and other exclusive audio-enhancing technologies making this receiver recommended for bigger speaker system setups.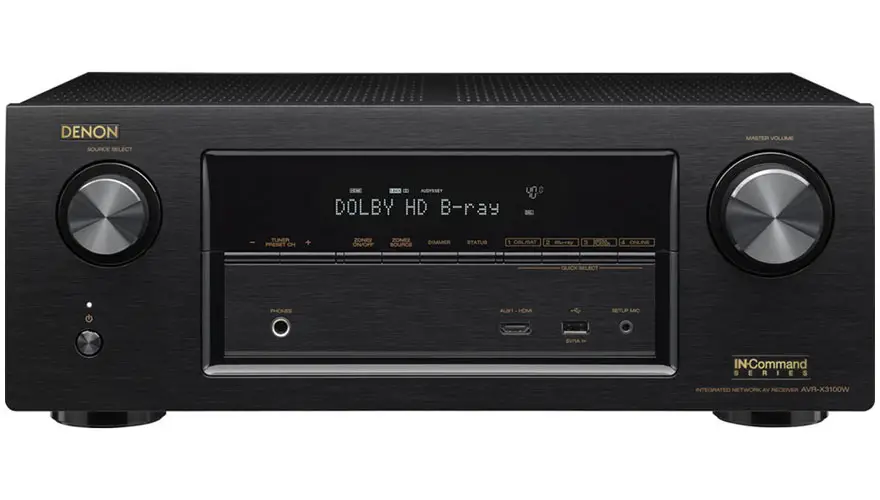 Design
High-end AV receivers are known for their complicated front panels but the Denon AVR-X3100W still keeps the look simple. Everything is visible with no doors or sliding panels so you can easily toggle and switch to the Zone 2 or plug in portable devices as you please. There are four special buttons that are each called "Quick Select" and if you followed the labeled connections in the back, you can switch directly to your cable box, Blu-ray player, media player or online source by pushing the corresponding Quick Select button. Each button can be assigned to another source if you have say multiple gaming consoles and you may tie special audio settings to each source so you don't have to fiddle with presets as you switch sources.
Like the AVR-X2100W, the Denon AVR-X3100W has a grand total of 8 HDMI inputs including 1 on the front. The rest of the connection ports are similar to what you would get with the AVR-X2100W but the AVR-X3100W does feature RS-232C, Trigger Out and remote control ports for custom installation.
Below is the back panel layout. Click on image to enlarge for a clearer view.
Features
The Denon AVR-X3100W offers the same built-in networking features as the other models. You can connect to a wireless router as soon as you turn it on and you don't have to connect a separate wireless dongle like the previous generation models. Wi-Fi allows the receiver to stream from popular music streaming services including Pandora, SiriusXM and Spotify. It does not depend on a mobile device making the stream more direct and higher quality. But having an Android smartphone/tablet or iPhone, iPad or iPod Touch can still enhance the overall experience. The AVR-X3100W works with the Denon Remote App which provides a nice GUI of the receiver to the mobile device. You can customize the home screen by adding favorite shortcuts to sources and options and manage playlists zones. Controlling the receiver in this manner is much more pleasant than using the remote and the app has been updated to look good on tablets too.
The added AirPlay and DLNA support make the Denon AVR-X3100W even more useful as you can stream stuff you have on iTunes to the receiver or any other content from DLNA-compliant systems including Windows computers. It even has built-in Bluetooth opening up the wireless streaming possibilities to feature phones and MP3 players although the range is limited.
Being a 2014 receiver, the AVR-X3100W comes armed with full 4K support in all of its HDMI ports. With HDMI 2.0 compliance, the receiver can handle 4K content at 60 Hz and 4:4:4 Pure Color sub-sampling pass-through. It is still hard to appreciate these features due to the lack of 4K content but once more studios and networks start embracing the format, the Denon AVR-X3100W should be fully ready to handle the ultra-high resolution media. With a second HDMI output present on the back of the receiver, you can add a second TV or projector and pass different content to that display.
Performance
Feature and connectivity-wise, the cheaper AVR-X2100W matches the AVR-X3100W in most respects but the latter is more powerful with a maximum power output of 215 watts (6 ohm). Cheaper models in the AVR-X series feature Audyssey Silver but the Denon AVR-X3100W is the cheapest model in the 2014 lineup to offer Audyssey Gold. Audyssey Gold is a collection of DSP technologies that include the same Audyssey MultEQ XT correction system that Audyssey Silver provides. It continues to be a reliable way to optimize the performance of each speaker no matter what the positioning of each speaker is or the size or shape of the room. You may also turn on the Audyssey Dynamic Volume feature if you are constantly annoyed with the frequent jumps in volume coming from different sources or channels. If you prefer hearing all the details of the audio at lower volumes, you can turn on Audyssey Dynamic EQ as well. Exclusive to Audyssey Gold is the Audyssey Dynamic Surround Expansion technology which significantly boosts the surround soundstage greatly benefiting 5.1 and 7.1-channel setups. You are also free to add a second subwoofer to improve the bass response.
DTS Neo:X support is another nice feature exclusive to the AVR-X3100W and more advanced Denon models. This opens up the possibility for front height or front wide speakers which noticeably improve the audio experience of the latest movies. Dolby Pro Logic IIz and Audyssey DSX serve as alternate options so you can experiment and see what is best for expanding the front soundstage.
The Denon AVR-X3100W handles 4K video quite well although you won't get the same impressive video results on a standard receiver if you play back 1080p or other lower quality sources on a 4K display. Because the AVR-X3100W has 4K upscaling, you will be treated to high quality visuals even when watching standard Blu-ray and DVD formats on a 4K TV.
Bottom Line
The Denon AVR-X3100W costs $999 leaving a pretty big $400 gap between this receiver and the AVR-X2100W. Therefore, you should only get this receiver if you intend to take advantage of DTS Neo:X or you need to provide more power to more sophisticated 5.1 or 7.1-channel setups.
Update: There is a newer model > Denon AVR-X3400H