Top audio companies like Denon, Yamaha, Onkyo and Pioneer are focused on building various home theater receivers targeting different price points. While compromises have to be made for budget versions, the goal for each company is the same – to make the best sounding home theater receiver. With these companies all having a good reputation, the existing market can be crowded since there are several other players too. That's fine because each company has its own approaches of standing out. When you reach down to the $600 level, sacrifices have to be made. For the Pioneer VSX-1124-K, the Japanese giant definitely made sure audio quality wasn't one of these sacrifices.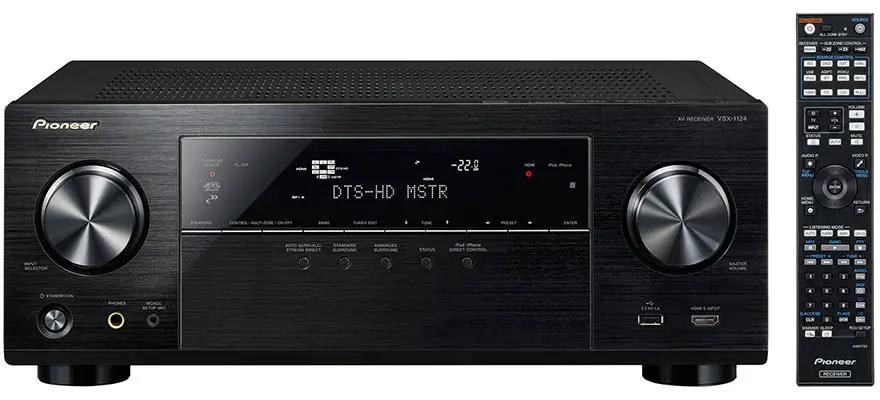 About the Pioneer VSX-1124-K
Pioneer introduced the Pioneer VSX-1124-K back in 2014 as a successor to the VSX-1123-K. It is a 7.2-channel receiver with a competitive $599 price tag and is Pioneer's high-end product for its 2014 family of standard receivers. Because Pioneer also has a dedicated "Elite" family of receivers targeting enthusiasts and audiophiles, the Pioneer VSX-1124-K can be considered as a midrange product that should fit the needs of someone who is setting up a small home theater system for the first time and needs a little bit of extra room for expansion.
Comparison with the Pioneer VSX-1123-K
One of the hottest new additions to the VSX-1124-K is Roku certification. If you have a Roku Streaming Stick, you can conveniently plug it into the MHL 2.0 port on the back of the Pioneer VSX-1124-K and take full advantage of its features. Once plugged in, you can use the receiver's remote control to browse through the Roku interface and access thousands of content providers.
Both the VSX-1124-K and its predecessor have 4K Ultra HD pass-through which is necessary for most 4K displays to work with receiver. However, the HDMI 1.4 specification in each of the HDMI ports doesn't exactly bring out the very best of the 4K resolution. The Pioneer VSX-1124-K does thanks to the HDMI 2.0 support. There are now 7 HDMI inputs (1 on the front) instead of 8 as in the older model but the 2.0 specification offers 18 Gbps throughput allowing 4K or 2K content at 60p with 4:4:4 color space. The VSX-1124-K basically maximizes the picture quality of modern 4K TVs that also have HDMI 2.0 support.
Below is the back panel layout. Click on image to enlarge for a clearer view.
With a power output of 90 watts (8 ohm) for each of the 7 channels, the hardware specs of the Pioneer VSX-1124-K hasn't changed from its predecessor and the overall design looks similar too. But the 192 kHz 24-bit ESS ES9006 Sabre Premier DAC counts as the main improvement. This DAC is normally found in high-end Pioneer Elite receivers that cost $1,000 or higher. Digital-to-Analog conversions are much better and produce less jitter.
Another new feature that you get with the VSX-1124-K is Subwoofer EQ which improves the bass performance. It works with the MCACC calibration by using four frequency parameters to make the appropriate adjustments to the subwoofer. The distance and characteristics of the subwoofer are taken into consideration so you get better results and reduced timing errors.
Pioneer receivers made before the Pioneer VSX-1124-K were a bit tedious to configure as you had to download an app or use a CD installer to set the receiver up. The VSX-1124-K simplifies the process by incorporating the latest version of AVNavigator right into the receiver. Once you connected the receiver to your router via Ethernet cable, you can immediately set up the receiver from a Web browser.
Exclusive Features
Getting a middle-of-the-road Pioneer receiver can be beneficial for existing 4K TV owners too even if there isn't much 4K content to come by. The 4K upscaling capabilities of the Pioneer VSX-1124-K allow you to watch 1080p and lower resolution content without sacrificing on overall picture quality. The AVNavigator and Subwoofer EQ features are also exclusive to the VSX-1124-K and higher-end Pioneer receivers. It is also the cheapest Pioneer receiver to offer 2 HDMI outputs which allow a completely separate zone for both audio and video.
Other Features
While owning a Roku Streaming Stick is recommended if you want to turn the Pioneer VSX-1124-K into a rich media streaming hub, it still has built-in support for Spotify Connect, Pandora and vTuner. Unfortunately, your only means of connecting the receiver to the Internet is through the Ethernet cable. You must buy the AS-WL300 adapter if you want wireless capability and you will also need the AS-BT200 adapter if you want to add Bluetooth to the receiver. But if you have an iOS or Android device and you already connected the receiver to a wireless router, you can easily stream music wirelessly through AirPlay, HTC Connect or Pioneer's own iControlAV5 app.
Performance
The VSX-1124-K is one of the best sounding midrange receivers in the $599 range. The ESS Sabre DAC helps in a big way making movies and music sound livelier and fuller. Listening to the latest Ed Sheeran album highlighted the receiver's ability to really highlight those melodies. Watching Guardians of the Galaxy with the Pioneer VSX-1124-K was also a very pleasant experience. Any Blu-ray action-packed movie effectively demonstrates the audio capabilities of the receiver and you don't have to be an audiophile to appreciate it. Consider it as a starting point especially if you plan on expanding to a 7.1-channel system one day. If you are going to stick with a 5.1-channel system, always remember that you can set up a standard stereo system and TV in another room.
Conclusion
Pros:
• HDMI 2.0 ports take full advantage of the latest 4K TVs.
• Compatible with Roku Streaming Stick.
• Improved audio quality despite having similar specifications as its predecessor.
• Attractive $599 price tag for a receiver with an ESS Sabre 24-bit DAC.
Cons:
• Wireless features still require accessories.
• Lack of HDCP 2.2 Copy Protection could limit compatibility with upcoming 4K sources.
Verdict:
The Pioneer VSX-1124-K has excellent sound quality for the price and is a must-have for Roku Streaming Stick owners. But if you plan on upgrading to a full 4K experience in the distant future, it is best to pick the newer VSX-1130-K model which also has built-in Wi-Fi and Bluetooth.