Several years back, you had to spend several hundreds of dollars for a 5.1 home theater system with a mid-range set of specs. Nowadays, spending $500 or $600 could guarantee you an AV receiver with networking capabilities. If you don't have an AV receiver yet and you have a standard TV and Blu-ray player without networking features, buying an AV receiver is a smarter choice because most home theater equipment have very long lifespans. Home theater receivers can even last longer if you pick the right brand. Companies like Pioneer take design very seriously down to their most affordable products. They offer a lineup of Elite home theater receivers as well as standard sets of receivers for enthusiasts and regular consumers. Pioneer hasn't announced anything for the high-end category, but they did announce their first quartet of 2013 models for the budget category. The Pioneer VSX-1123-K is the flagship model of the standard VSX series and while it isn't as big on specs as the Elite models or SC models, the VSX-1123-K is definitely worth checking out as it may have the right set of features you need for a reasonable price.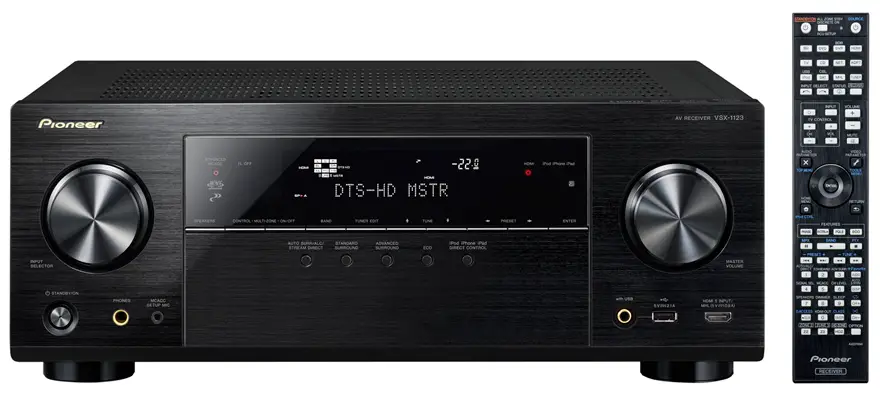 Design
Like the previous set of entry-level VSX models, Pioneer has decided to keep the design consistent so from the front, the Pioneer VSX-1123-K looks a lot like the considerably cheaper VSX-823-K. Therefore you should be careful when choosing a model. The model name is shown on the upper-right so check before finalizing the choice.
One of the advantages of getting an entry-level AV receiver is the minimal front panel design you are greeted with. Both an HDMI port and USB port can be easily accessed from the front so all modern portable devices can be hooked up with ease. You should have no problems working with the standard set of buttons under the display. But because of the larger feature set, the remote looks a bit more complicated than the remote controls included in other devices. But that shouldn't be a huge issue once you discover the other cool things you can do with the Pioneer VSX-1123-K.
The back side of the VSX-1123-K is another story and it looks more packed with terminals compared to the cheaper VSX models. Don't expect to discover any ports for custom integration but you can find 7 HDMI inputs, 2 HDMI outputs, some composite inputs and even component video inputs. It is worth noting that none of the cheaper models have component video ports so it is something worth considering if you really need to use older devices. But with a total of 8 HDMI inputs, it is best to stick to that interface as there are some enhancements worth pointing out.
Below is the back panel layout. Click on image to enlarge for a clearer view.
Features
A new feature that the new VSX models have is MHL (Mobile High-Definition link) 2.0 support for the front HDMI port. If you are not aware of this technology, new smartphones don't have HDMI ports because MHL compatibility is baked in its micro-USB port. Basically, MHL allows you to use a special cable or adapter that turns your micro-USB port into an HDMI port. It also adds another port so you can charge the device quickly. All HDMI ports also have 4K Ultra HD up-scaling capabilities. This should probably mean nothing to you unless you are fully committed in buying those expensive 4K displays with insanely high resolutions. The Marvel QDEO processor plays a role in this and it also means that you can convert component and composite sources to HDMI.
Compared to the other VSX models, the Pioneer VSX-1123-K pushes more power at 165 watts for each of the 7 channels so bigger speakers can be handled with better audio quality. Having a 7.1-channel system would be great if it can be pulled off but the VSX-1123-K isn't exactly a poor choice if you are limited to a 5.1-channel setup. You can utilize the multi-zone audio features to divert two of the amplifiers to form a second zone. It is powerful enough to drive different sources to each zone so you are free to setup another 2.1-channel system in another room. There is also a Zone 3 HDMI Out labeled as HDZONE in case you want to route the exact same signal you are routing to the TV. This source can be changed as well.
Pioneer has also made sure that every home theater receiver has an automatic calibration function. This feature comes in the form of MCACC or Advanced Multi-Channel Acoustic Calibration. Unlike some other calibration solutions, the calibration utility takes the size of the speakers in account along with the distance so better tweaks can be applied. The Pioneer VSX-1123-K is one of the most affordable models that utilizes a special 3D calibration method in obtaining more precise measurements. Pioneer calls this Advanced MCACC.
Since you will be paying quite a bit for the VSX-1123-K, it is a must for this AV receiver to have networking capabilities and it fortunately does. You can access content in Pandora and vTuner Internet Radio as soon as you connect the Pioneer VSX-1123-K to the router. But if you are not impressed with the online offerings, you can still take an iPhone, iPad, iPod Touch or any device running iTunes to stream music content to the AV receiver through the Apple's AirPlay feature. The USB port also accepts Apple Lightning cables if you prefer to charge your iPhone 5 or iPad Mini while playing back music.
Pioneer AV receivers with networking features should work with Pioneer's mobile app too but the VSX-1123-K uses a different control app then the other entry-level models. The iControl AV 2013 app for Android and iOS devices provide more control over the Pioneer VSX-1123-K than its own remote control. The HDZONE HDMI out is completely controllable from that app.
Bottom Line
The Pioneer VSX-1123-K puts you very close to the custom installation territory where the specs are immensely powerful and have even more features. But the VSX-1123-K does a lot on its own and has great networking and multi-zone features. If you believe you won't ever take advantage of the custom installation you can save plenty of money and still get the power you need from the Pioneer VSX-1123-K. You can also ignore the VSX-1122-K since it wonít work with newer Apple products and it doesn't have the nifty ECO mode that can contribute to a lower electric bill.
Update: There is a newer model > Pioneer VSX-1131