There are a lot of big manufacturers that make home theater receivers and one of the things that all of these manufacturers have in common is their goal in bringing the best audio experience. Several brands can achieve these goals across various price points while others fall short in one or more areas. Marantz has a pretty good reputation in producing good AV receivers for the price but they are more uniquely known for designing stand-out receivers. The NR series is a good example as they have about half the height compared to standard receivers but still manage to perform great for their entry-level prices. But if you are looking for something considerably more powerful with better multi-zone support, larger receivers like the Marantz SR6008 are available.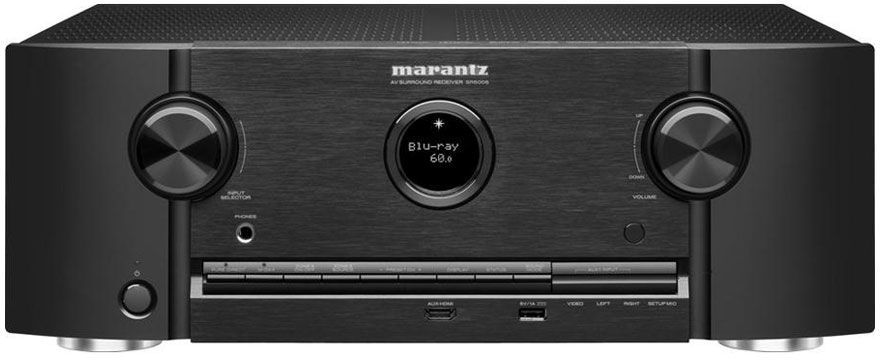 Design
If the Marantz NR receivers are known for being slim, SR receivers like the SR6008 get all the recognition for having a unique front panel appearance. Marantz calls this the star and circle design as it has a curved front panel with a porthole display right on the center of the receiver. The small info display is flanked by two similarly sized knobs for volume control and input selection. The rest of the layout is a bit unconventional but still good-looking with a phones jack placed below the input selector and a row of buttons for basic usage. On the right side of these buttons is a small panel which reveals the AUX inputs and setup mic. Below the entire row is the HDMI and USB ports. This is a pretty smart move since front HDMI and USB ports are more likely to be used often than the other inputs.
Some smart decisions were made on the back as well making the Marantz SR6008 a rather nice improvement over last year's SR6007. All the speaker terminals are laid out horizontally on the bottom of the back panel. Each group has a clear label along with its own color making it easier to match the color coded cables to your speakers. Unlike the SR5008, you also get separate front height and front wide binding posts if you plan on using DTS Neo:X or Audyssey DSX. The SR6008 also features 4 composite inputs and a phono input along with the usual ports present in the cheaper model. But those ports probably won't matter since the 6 extra HDMI inputs and dual HDMI outputs allow you to connect various home theater components. Like many other Marantz home theater receivers, there is an M-XPort that can still accept the dated RX101 accessory that adds Bluetooth functionality.
Below is the back panel layout. Click on image to enlarge for a clearer view.
Features
The Marantz SR6008 has a power output of 110 watts which may not seem like an improvement over the 110-watt SR6007. But the SR6008 gets a pair of critical features that you would find in the more expensive SR7007. Marantz's proprietary HDAM or Hyper Dynamic Amplifier Module technology is integrated with the Marantz SR6008 along with Current Feedback. With these two extras combined, you can get better dynamic range and impressively fast slew rate which spells great news for overall audio quality.
What is also very impressive is the fact that the less expensive SR5008 has these extra technologies too and still has an impressive 100-watt power output. But you can expand your soundstage with the SR6008 significantly by utilizing the front height or wide speakers. Movies sound livelier thanks to the DTS Neo:X and Audyssey DSX decoders. If you don't plan on using these decoders, you can keep your 7.1-channel speaker system and use the extra terminals for setting up a Zone 2. It is also possible to send a different source to another TV by connecting the TV to the second HDMI output.
A good home theater receiver won't enhance your speaker setup unless the speakers are properly calibrated. This is where the Audyssey MultEQ XT comes in and it handles all the dirty work in optimizing your speakers regardless of their location thanks to its ability to handle 8-point calibration. Combine that with other technologies like Audyssey Dynamic EQ and Dynamic Volume and you also get better bass and normalized volume level across all sources.
While MHL is unfortunately lacking on the front HDMI input, all of the HDMI inputs can still handle all kinds of components from 3D displays to the next-generation 4K Ultra HD displays. It also has a video processor that can upscale legacy sources but it only maxes out at 1080p which is still acceptable since 4K displays are still very expensive. Finally, each HDMI port has an interesting technology that non-Marantz products and lower-end models lack which is the InstaPrevue technology. This feature lets you preview any sources connected to the receiver via HDMI inside a small thumbnail.
Although the Marantz SR6008 is close to the high-end spectrum of home theater receivers, this particular model is still as easy to setup as any entry-level Marantz receiver. You get the same Marantz Setup Assistant experience so you know exactly how to hook up the cables and make any other important configurations. Once you are done, you can still change the settings using the friendly GUI or use your iOS or Android device with the Marantz Remote app installed. This app makes use of the networking capabilities of the SR6008 so it is highly recommended to connect the receiver's Ethernet port to the router.
Doing so will also unlock other networking features such as the AirPlay support which is only exclusive for iOS devices. iOS devices can stream music to the receiver wirelessly with ease. Windows 7 and 8 computers can also do the same since the Marantz SR6008 is DLNA 1.5 compliant. It is also possible to connect some online services like vTuner, Pandora and SiriusXM without depending on any other device.
Bottom Line
The Marantz SR6008 is simply a well-rounded receiver that has a unique look and comes with decent networking features and good multi-room support. The $1,199 price tag is a bit high for a 7.2-channel receiver but don't judge this receiver by the power output alone. The presence of the HDAM technology pushes the audio performance further to the point that you may not need a higher-end receiver unless you want studio-class quality.
Update: There is a newer model > Marantz SR6012