The big players that are making televisions and home theater equipment are finally giving reasons for people to upgrade their aging components – 4K support. 4K TVs, Blu-ray players and home theater receivers have been around for a couple of years but those that want to wait for the technology to mature a bit more will be rewarded. 2015 is the year where that waiting period ends and the reward is lower prices for TVs and full support for 4K content for both TVs and receivers. In the home theater receiver battlefield, nobody wants to be left behind in this 4K movement. It is no surprise that companies like Denon have released new receivers that are ready for 4K but the Denon AVR-X5200W wants to be so much more.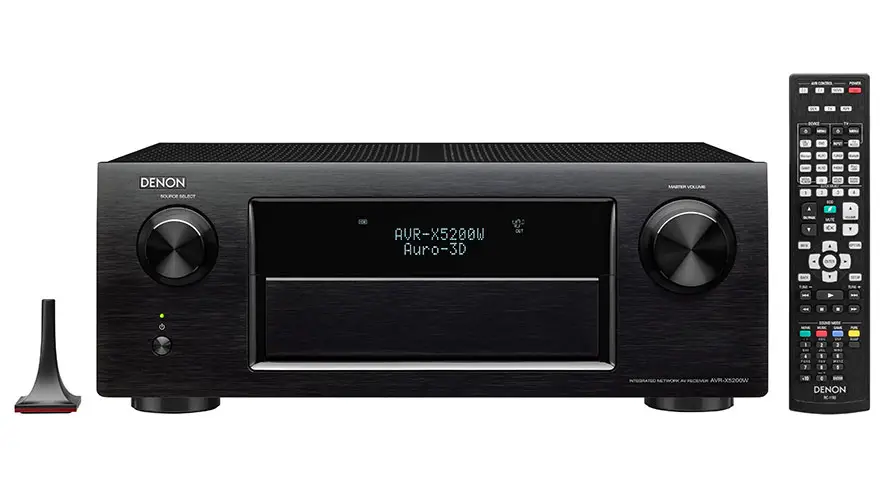 About the Denon AVR-X5200W
The Denon AVR-X5200W is Denon's very first 9.2-channel receiver in the X-series. It serves as the successor to the discontinued Denon AVR-4520CI which the company announced way back in 2012. Stepping up from the AVR-X4100W, the Denon AVR-X5200W costs $1,999. While this receiver has more features and is more powerful than last year's Denon flagship, the X5200W isn't a Denon's flagship product. There is a more expensive receiver in town and it is called the Denon AVR-X7200W.
Comparison with the AVR-4520CI
The AVR-X5200W may very well be the upgrade that AVR-4520CI owners have been waiting for as it should fit right in a 9-speaker setup environment. It is also ready to serve Ultra HD televisions of the future thanks to the HDMI 2.0 inputs. The main benefit of this new HDMI specification is support for 4K 60 Hz pass-through. It also adds 4:4:4 color sub-sampling pass-through so you get better color. The Denon AVR-X5200W also has a grand total of 8 HDMI inputs including the one on the front. The AVR-4520CI only had 7 but the 3 HDMI outputs are retained with one of them reserved to a zone.
If the 4K improvements aren't a tempting reason to upgrade, the added wireless capabilities might win you over. Powered by the two RF antennas on the back of the receiver, the AVR-X5200W offers Wi-Fi giving you more freedom in positioning the router. The Denon AVR-X5200W only has a single Ethernet port in case you prefer the wired approach although you can't plug in any other devices via Ethernet like you can with the AVR-4520CI. Bluetooth is built into this receiver as well.
While the Denon AVR-X5200W is more expensive than the AVR-4520CI, some of the minor features like InstaPrevue feature for HDMI ports and Dolby Digital EX and ProLogic IIz didn't transition to the AVR-X5200W. You are also limited to 3 multiroom zones as opposed to 4 on the AVR-4520CI. On the upside, the Denon AVR-X5200W offers the groundbreaking Dolby Atmos technology along with other nifty extras including AIFF 192/24, DSD audio streaming and ECO mode.
Below is the back panel layout. Click on image to enlarge for a clearer view.
Exclusive Features
The AVR-X5200W cannot hang with the other $2,000 home theater receivers without supporting Dolby Atmos so it is no surprise that this receiver supports it. Dolby Atmos mimics the cutting-edge sound experience that modern movie theaters currently offer but it requires at least 1 pair of overhead speakers in your house. If installing speakers to your ceiling isn't very feasible, you can alternatively buy special Dolby Atmos-compatible speakers that you can place on the floor. These speakers have upward firing drivers that use the ceiling to reflect sound back down.
Compared to the cheaper Denon AVR-X4100W, the Denon AVR-X5200W has a higher power output of 140 watts per channel and some special treatment to give the sound quality a nice boost. It is the cheapest Denon receiver in the 2015 lineup that offers gold-plated RCA terminals. It also has a mono block power amp construction which makes the receiver weigh more than 30 pounds but sound so much better. With the AVR-X5200W being able to handle 9.2 channels without any additional hardware, the maximum number of preamp channels increased to 11.2.
Other Features
The Denon AVR-X5200W combines the use of SHARC DSP processing with Denon Link HD to take care of the digital audio decoding and eliminate distortion. Like the other Denon receivers with Dolby Atmos, the AVR-X5200W has the Audyssey Platinum suite of DSP audio algorithms. The most important part of this suite is the MultEQ XT32 calibration system which uses high precision digital filters for each speaker and subwoofer. Many of the other things in the Audyssey Platinum suite address specific areas. For instance, TV fans might like the Audyssey Dynamic Volume feature which prevents TV commercials from spiking up the volume.
Fans of multi-room environments will find the Denon AVR-X5200W to be quite versatile. You can have a standard 5.1-channel setup and still have room for 2 more stereo systems in different rooms thanks to the extra HDMI outputs.
Performance
Just because you don't have a 7.1-channel or greater system doesn't mean that the AVR-X5200W doesn't provide much benefit. In fact, you will notice a pretty big difference when listening to music playing on a 5.1-channel configuration. That difference is lively sound field which is something you will hardly notice on an entry-level receiver. Also remember that a 5.1-channel has plenty of room to grow. By adding 4 ceiling speakers or Dolby Atmos speakers, you will end up with a 5.1.4-channel system that takes that soundfield to a new level. The 2014 movie John Wick served as a great benchmark for that and even showed noticeable improvements when switching to a 7.1.4-channel configuration. This is where the Denon AVR-X5200W starts to win over the AVR-4520CI in performance.
Conclusion
Pros:
• 9.2 channels offer a lot of flexibility especially if you decide to tap into Dolby Atmos.
• Both Wi-Fi and Bluetooth functionality right out of the box.
• Audyssey Platinum offers plenty of sound augmentation options.
Cons:
• Setup process could use some improvements.
Verdict : The Denon AVR-X5200W may not overpower the AVR-4520CI spec by spec but it is all about baby steps. One day you have a 5.1-channel system and another day, you could have speakers on your ceiling and a nice 4K display that works perfectly with that same receiver.