Home theater receivers fall in a slightly different category compared to other home theater components. Like other components, there are entry-level, mid-range and high-end models but some companies that are more dedicated in the home theater receiver industry like Denon also offer a separate class of home theater receivers that offer custom integration. These receivers often have a notable "CI" suffix at the end of their model names along with an RS-232 port and IP Control so the receiver can function with home automation systems. Most consumers won't care about this making these receivers niche products but manufacturers still compete strongly in these segments. With the Denon AVR-4520CI making its appearance as Denon's flagship home theater receiver, Denon basically wants to prove to the world that all of its technologies can combine to form a class-leading receiver for the extreme enthusiast.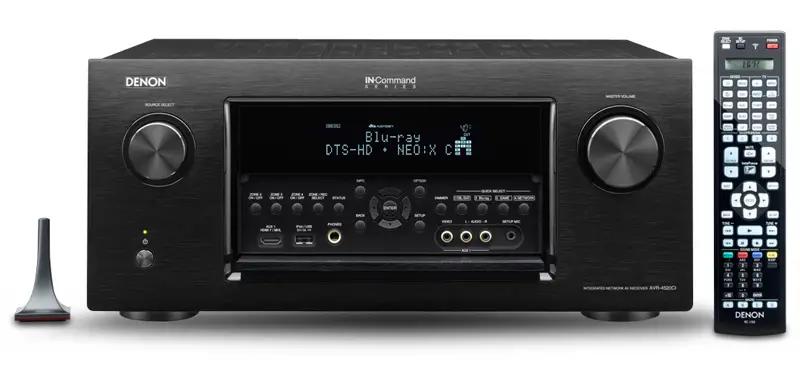 Design
The Denon AVR-4520CI boasts a fully discrete and mono AMP construction. In layman terms, it means that the Denon AVR-4520CI is specially designed with its own amplifier circuit board for each mono channel so the receiver can perform in a stabilized state no matter the operating conditions. This gives emphasis to the receiver's ability to transmit the cleanest playback sound possible. Flagship receivers often hide the buttons and connection ports behind a panel and the AVR-4520CI is no exception. Those that hate thin buttons will be pleased to know that all the functions on the front panel are circular and easy to press.
On the exterior, Denon makes it clear that the AVR-4520CI belongs in the IN-Command series so you have to find that label if you are looking to buy a Denon receiver with all the premium trimmings. From the front panel, you can navigate the interface, quickly switch to one of the four main input sources and switch different zones on and off. Of course, the source select knob is always available if you have other components plugged in the back. Unlike Denon's newer entry-level offerings, you have access to an HDMI port, USB port, phones jack and the legacy set of AUX 1 ports and setup mic.
The back of the Denon AVR-4520CI immediately shows how overwhelming this receiver really is. With support for Zone2, Zone3 and Zone4, Denon had to cram all of the pre outs and other essential ports on the back and it has succeeded doing so in an organized manner. Other notable things include 6 HDMI inputs and 3 HDMI outputs although one is specifically for Zone4. Perhaps the most unique thing that the AVR-4520CI has is 4 Ethernet ports essentially making this a receiver a switch. You can indeed hook this up to your wireless router to extend the number of available ports.
Below is the back panel layout. Click on image to enlarge for a clearer view.
Features
The Denon AVR-4520CI is capable of providing 150 watts to each of the 9 discrete channels and 2 subwoofer outputs for stellar performance regardless of the speakers you use. Throw some bass-heavy tracks and the AVR-4520CI simply won't flinch. A key part of the optimal sound quality lies in Audyssey's MultEQ XT32 technology. This is basically a more advanced version of Audyssey's popular automatic speaker calibration solution. It works by utilizing high-res equalization filters making the calibration more accurate even if the room has an odd-shape or larger size. Combined with the Audyssey Dynamic EQ and Dynamic Volume technologies that are present in other Denon receivers, the overall output is very good and the setup is a breeze.
Regarding the overall setup process, the Denon AVR-4520CI is surprisingly easy for novices to get the receiver up and running. A single setup wizard guides you through the various connections you have to make complete with pictures. The PDF manual on the included disc has more information but beginners should be very happy with this feature. You even get a chance to set it up with your network and Internet connection so by the time you are done with the setup, you should be able to use the AVR-4520CI with your media server.
Of course, the Denon AVR-4520CI isn't just for media server streaming as it is capable of using your Internet connection to stream music from popular online services like Spotify, Pandora, SiriusXM and vTuner. Apple's AirPlay technology is also implemented so owners of iOS devices may hop onboard with the wireless streaming craze. There is also a special Denon Remote App that smartphone and tablet users can download from the Google Play Store or Apple App Store. When installed, you can remotely control the AVR-4520CI over Wi-Fi using a very friendly interface.
On the high-end side of this receiver, the Denon AVR-4520CI boasts a four-source, four-zone functionality so you can not only set up separate speaker systems in 3 other rooms but you can also provide independent video and audio sources. Very few home theater receivers can provide this kind of power. You won't even have to buy an external switch since the AVR-4520CI can power two HDMI video sources at the same time. If you have a 4K TV or projector, you can take advantage of the receiver's ability to upscale any content to the 4K resolution so the visuals look more amazing then the usual 1080p visuals.
If you have a Denon DBT-3313CI Universal Blu-ray Player, the Denon AVR-4520CI is an excellent companion as it also features Denon Link HD. This is a special audio transmission technology that promises jitter-free audio quality
Bottom Line
The Denon AVR-4520CI has an understandably premium price tag at $2,499. Other big receiver manufacturers compete at this price segment too but the Denon AVR-4520CI deserves a closer look because of its versatility. For a large room with a 9-speaker setup, the Audyssey MultEQ XT32 calibrations really help along with the Audyssey DSX technology which is optimized for big setups. Multi-room configuration possibilities are very broad and the added built-in switch really makes the AVR-4520CI the centerpiece of your home network. Then you have to remember too that the Denon AVR-4520CI works fine with the third-party controllers for home automation.