In 2014, Denon redefined the meaning of a flagship home theater receiver. Yes there are still home theater receivers that cost more than $5,000 but consumer-class flagship receivers cost half as much and come with some cool features that you won't find in many studio-grade receivers. The Denon AVR-X7200W proved that it can provide amazing value for considerably less. It is also getting pretty old but Denon apparently doesn't think that way. The AVR-X7200WA received glowing reviews from critics so you can't totally blame Denon for its decision to rerelease the Denon AVR-X7200W plus one extra improvement. This caused the name to change to the Denon AVR-X7200WA.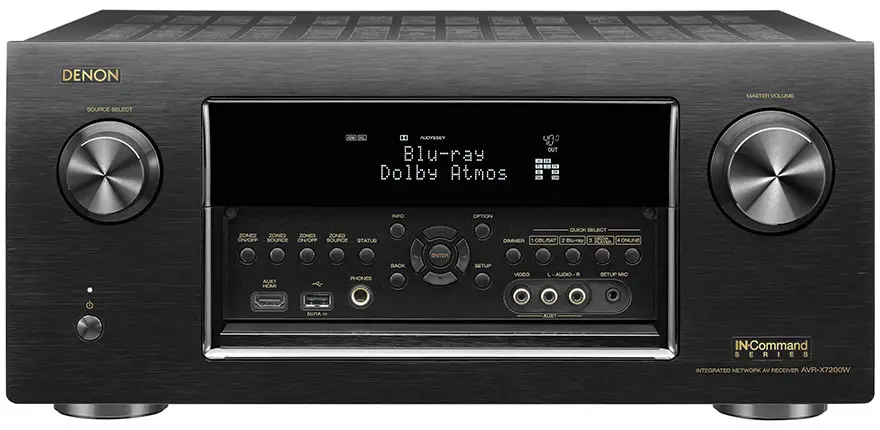 About the Denon AVR-X7200WA
The Denon AVR-X7200WA is a 2015 refresh of the company's 2014 consumer flagship model. Currently bearing a $3,000 price tag, this monstrosity comes equipped with 150 watts of power utilizing a 9.2-channel configuration. It has 8 HDMI inputs and 3 HDMI outputs just like last year's model and the design looks the same. The new single improvement over the older model is a very light one but significant for aspiring 4K adopters.
Comparison with the Denon AVR-X7200W
The added "A" really suggests that AVR-X7200WA is still the AVR-X7200W in spirit because there aren't enough feature additions to warrant a significant change in model name. In fact, there is only one improvement and that is HDCP 2.2 support. This is the latest version of copy protection and it will be widely adopted when Ultra HD content becomes more popular. Basically without this support, not all 4K content can be played back properly. Plus, there is no way for the original Denon AVR-X7200W to receive HDCP 2.2 through avenues like a firmware update. Unlike some of the competing models, all of the HDMI ports are HDMI 2.0a enabled and all have HDCP 2.2 compliance.
Below is the back panel layout. Click on image to enlarge for a clearer view.
Exclusive Features
One of the main characteristics that make the Denon AVR-X7200WA more advanced than models released before the AVR-X7200W is the Dolby Atmos and DTS:X support. Both of these competing technologies focus on new ways to utilize all 9 channels. It embraces the concept of elevated speakers or speakers placed on the ceiling. Dolby Atmos in particular is becoming more and more adopted on the latest titles so having those elevated channels contribute greatly to the immersive experience. Although Dolby Atmos looks set to be the more popular standard as it is already in use in many movie theaters, having DTS:X support is also extra beneficial especially if you cannot afford those special Dolby Atmos speakers. DTS:X can make use of your current speaker set up as it runs the necessary calibrations to create the best surround sound effect possible from the current speaker arrangement.
Also exclusive to the high-end spectrum is Audyssey Platinum which is a suite of high-end technologies covering speaker calibration and sound augmentation. This includes the Audyssey Dynamic Volume feature which prevents the volume level from jumping all over the place when different content is being played back. It also allows you to watch movies at lower volume levels while still being able to hear the dialogue. On the calibration side, the AVR-X7200WA relies on MultEQ Pro which is an advanced version of the MultEQ technology found in lower-end models. This measures up to 32 locations in a room leading to highly tailored results. Finally, Dynamic EQ and DSX work together in improving the audio quality even more and expanding the front soundstage.
The Denon AVR-X7200WA is also powered by Denon's fairly new HEOS platform which enables Denon's wireless speaker HEOS products to connect directly to the receiver. This allows you to easily create a multi-room audio system where the receiver can play back different audio sources to each of the HEOS wireless speakers positioned in different rooms. The HEOS app allows easy control and multi-room management.
Other Features
You can still have multi-room setups the old fashioned wired way thanks to the numerous connection ports found on the back of the receiver. This includes a dedicated HDMI out which can output an entirely different video source to another TV positioned in a neighboring room.
Whether or not you extend to another room, you can use the receiver's wireless capabilities to stream from audio streaming services online including Spotify, SiriusXM and Pandora. AirPlay is supported too which is great for iOS fans and there is DLNA support for other platforms. All sorts of lossy and lossless file formats are supported on the AVR-X7200WA.
Performance
Having a 9.2-channel system like the Denon AVR-X7200WA is good in the long run once you are able to afford some ceiling speakers or Dolby Atmos-certified upfiring speakers. You can install four of these speakers and still have enough connections to have a 5.1-channel system. This results to a 5.1.4-channel system where movies optimized for Atmos really sound lively. It is quite the experience although it might be too expensive for some. But even if you don't take advantage of these features, the high-end specs really make a difference compared to cheaper models. It hasn't changed the AVR-X7200W formula but it doesn't have to on the audio quality end.
Conclusion
Pros:
• HDCP 2.2 compliance on all ports.
• Both Dolby Atmos and DTS:X onboard.
• Ready for the HEOS platform opening up wireless multi-room audio experiences.
Cons:
• HDCP 2.2 support is the only improvement over the AVR-X7200W.
• Making the most out of Dolby Atmos is still an extra expense.
Verdict:
The Denon AVR-X7200WA is the futureproof AV receiver that the AVR-X7200WA should have been. But if you don't plan on ever buying a 4K TV, the AVR-X7200W could be the better recommendation if it is priced considerably lower.