The Denon AVR-3312CI is the flagship model of the new "IN-Command Series". IN-Command is Denon's way of combining content and technology so that you can be entertained "in the simplest and most straightforward ways possible" as Denon puts it. Retailing for just under $1100, it has the most expansive feature set for its price range.
The AVR-3312CI is a 7.2 channel receiver that pumps out 125-watts discreetly to each of the channels. It comes with 7 HDMI Inputs and 2 Outs. It is also 3D and AirPlay Ready. As usual, the Dolby Pro Logic IIz and Audyssey DSX are on board to provide easy room configuration and use the different height channels. Denon has added the Audyssey MultEQ XT Pro for great room configuration.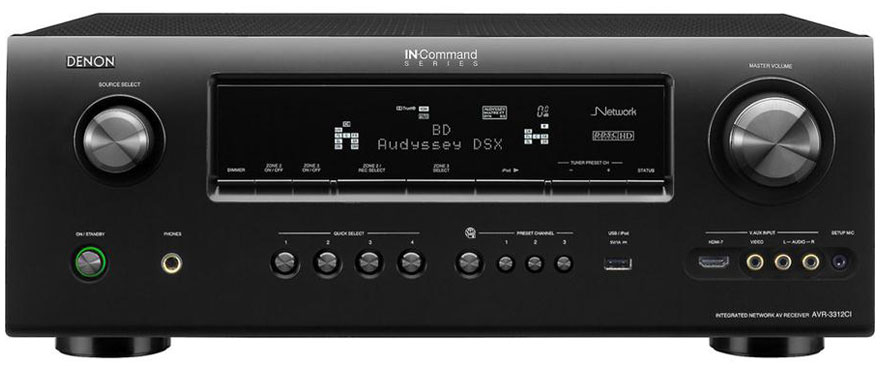 Design and Connectivity
After un-boxing the Denon AVR-3312CI, you will find a detachable power cord, 1 glow-in-the-dark remote control and 2 AA batteries. You will also find the Audyssey set-up microphone and AM/FM antenna. There is a hard copy of the quick set-up guide as well a PDF copy of the entire manual on a CD.
The modern minimalistic look is in vogue now. The front plate is now slightly convex instead of the industrial flat look. Denon has gotten rid of the flip-down cover in the front. There are now 4 'Quick Select' and 'Preset Channel' buttons in its place. You can assign your favorite sources to these buttons. They are located in the middle of the front panel.
As usual, you will find the 'Source Select' and 'Volume' knob on either side of the glass display. The power button is on the left next to the earphone jack. The Auxilliary Inputs and the Setup Mic Inputs are on the right side of the panel. The AVR-3312CI has a clean overall look that will fit nicely with your other equipment.
This model offers you many options for inputs and choices for networking functions. There are 7 HDMI inputs and 2 HMDI Outputs. There is a respectable number of composite Ins and Outs. You will find 8 Analog Audio Inputs. There is also the RS-232 port for serial control systems or remote access.
If you own an Apple product, you would be able to stream your music via a Wi-Fi network with Airplay. Airplay allows you to 'plug and play' your music or photos. There is a Denon Remote App that allows you to control volume, song selection, zones etc. Although this app is slight sluggish, there is a chance that future updates will change that. This receiver also supports FLAC.
The downloadable Denon Remote App can allow you to have access to basic controls and functions on your smart phone. This can also be used when running all zones at a time.
The Denon AVR-3312CI is DLNA certified. This means that if you have other DLNA certified products, you would be able to network them to your home entertainment system. For example, if you have a video camera or video game console or TV set, you would be able to send your video or photos to this receiver. Think of it as a type of Wi-Fi network.
Another networking option is having the receiver Windows 7 Certified. You can hook this up to your PC and display any media you with to your TV or projector. You can also get on the internet and listen to HD radio via Ethernet. This receiver is compatible with Rhapsody, Pandora, Napster and Flickr.
Below is the back panel layout. Click on image to enlarge for a clearer view.
Features
The Denon AVR-3312CI is one of the few receivers in this price range that has 2 subwoofer outputs. It can support up to 11 speakers with different height and spatial speakers for true 3D sound experience. It pushes 125-watt at 8 ohms with .05 THD. The massive transformer transport power discreetly to give you a cleaner sound.
Setting up your entertainment space is made easy with MultEQ XT Pro. Its technology measures height and sound using 8 different points for your room. The included set-up mic will help with the setting up. You can also have up to 2 more zones of audio without compromising on power from the back amps. So you could be watching a movie and playing Xbox Kinnect and listening to music in the third.
Denon uses its proprietary Dynamic Discrete Surround Circuit-HD and AL24 Plus to process Blu-ray HD formats. The AL24 minimizes the quantization noise with digital to analog conversion of LPCM. This will result in cleaner n clearer sounds. Like all current receivers, high resolution Dolby TrueHD and DTS-HD Master Audio formats are also supported.
Performance
Denon receivers are well known for their sound quality. The AVR-3312CI is no different. First impressions of the sound quality was simply impeccable. The power was also very impressive. You could hear all the little details in the music or movies.
Blu-ray is beginning to come into its own as an excellent music video format. Take for example Elton John 60 Live in Madison Square Garden in blu-ray format. Although at 60 Elton has lost his vocal range, the production nevertheless is a feast for the eyes and ears. It is 4 hours of well-conceptualized visuals and sound. The details of Elton's flamboyant costumes, textures of the fabric and embellishments were superbly sharp. His hair and skin texture were rendered in incredible detail by Denon's 32-bit video processor.
Colors were vivid and rich. The reds, blues and yellows on Elton's frocks were stunning. The blacks were very luscious and the white was bright. Contrast was also very sharp, but still looking very natural.
Denon's signature in the audio department was evident in the warm and non-digital sound. The basses were very strong, but not over-powering. At loud volumes, the sound is effortless with virtually no discernible distortion. Mid-range frequencies where the voices reside sounded realistic and natural. You can also easily discern the timbres of the different instruments. Trebles were clear and distinct. The AVR-3312CI had the spatial layers covered, leaving you with a 3 dimensional music experience.
Conclusion
The Denon AVR-3312CI is the receiver if you are an audiophile, or a person who loves tweaking, or even someone who just wants to enjoy a great movie with the family. This has all the features that allow you to be do all that. The sound quality is definitely true to its reputation. The Denon AVR-3312CI is fun and offers you lots of control at an affordable price for its class.