In early 2013, Denon did what every home theater receiver manufacturer is expected to do and that is announce some new home theater receiver models. In 2011 and 2012 is any indication, new home theater receiver models boast spec bumps and minor features so existing home theater receiver owners don't have to think about buying a brand new home theater receiver unless wireless connectivity is a major need. Buying a new home theater receiver to replace a functional receiver is often out of the question since the price is high. But Denon's new trio of home theater receivers can be seen as a breath of fresh air. Not only do these models represent the new "E-Series" but all of them target audiences with very low budgets. The Denon AVR-E300 is the mid-range model but it commands a very attractive feature set that makes the $400 price tag seem pretty unbelievable.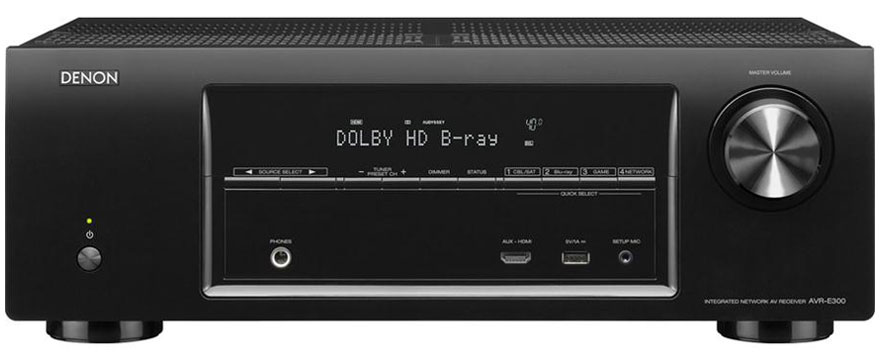 Design
While the E-Series represent Denon's new family of AV receivers, you won't really notice them because they all use the same design as Denon's older models. A unique design could have been nice but the overall layout of the remains functional and minimal. The row of buttons below the info display and large master volume control on the right side are pretty standard. It is also worth noting that the four Quick Select buttons are part of that row of buttons and they can be useful of you made the appropriate HDMI input connections on the back. Each HDMI port on the back has a label and hooking the components to the right labels allow you to quickly switch to the source you want. Of course, there are source select buttons on the front panel as well as the included remote control.
Component jacks are clearly things of the past so it shouldn't be much of a surprise that there none on the front. But the interesting thing with this $400 AVR-E300 home theater receiver is the presence of a front HDMI input. It is a full HDMI input that you can plug any HDMI device into although portable devices like media players, smartphones, tablets and camcorders are recommended. Normally, manufacturers reserve this convenience for higher-end models. Also on the front panel is a USB port so iPods and other iOS devices can playback digital music with ease while charging the device too. 4 more HDMI inputs are found on the back along with a minimal selection of composite jacks. All HDMI inputs and single output are 3D 1080p enabled and have pass-through technology so you can put the AV receiver on standby and still switch to any sources connected via HDMI. If you hope to hook up lots of legacy components, you will have to invest in a higher-end AV receiver.
Below is the back panel layout. Click on image to enlarge for a clearer view.
Features
The Denon AVR-E300 is a 5.1 home theater receiver with an easy graphic user interface just like the considerably cheaper AVR-E200. But that is where most of the similarities end because the AVR-E300 features a lot more goodies. Each audio channel is rated slightly higher at a maximum of 175 watts for better audio fidelity. Denon has released fine models in the past with very good audio quality and Denon is rightfully bringing their reputation to the Denon AVR-E300. It boasts low distortion and wide dynamic range thanks to the special discrete power amplifier output stage design. Audyssey technologies are onboard as well so you can calibrate the speakers very easily using the Audyssey MultEQ automatic room acoustic measurement and correction system. The Audyssey Dynamic Volume feature is also present which allows you to enjoy an immersive sound experience even if the volume levels are low.
Speaking of easy setup, setting up your home theater system is very simple overall. The speaker terminals on the back have a new design and are easier to connect. The terminals are grouped in colored categories too so you shouldn't make a mistake in hooking up the wrong speaker cable.
Another nice surprise that the AVR-E300 has is an Ethernet jack on the back of the receiver. This allows you to connect the Denon AVR-E300 to a wireless router via Ethernet cable so you can use the online features. Spotify, Pandora and SiriusXM are the most popular access models in streaming music and they are all supported. It is easy to guess that an Ethernet jack enables this feature since it isn't a new feature but AirPlay is supported as well. If you have a supported iOS device, you can easily stream your music library directly to the AVR-E300 and you will hear all of the high quality goodness. PC users with iTunes installed can utilize the AirPlay feature too. Android users will have to make use of the HDMI port on the front if the device supports it but there is still an Android app available that turns the smartphone or tablet into a touch remote. You can browse Internet radio stations, create your own playlists, adjust the volume and even toggle the input selection. The Denon Remote App is available for iPod Touch, iPhone and iPad owners as well. It basically renders the remote control useless although you can still use it right away since the batteries are included as well.
Bottom Line
On a price-to-performance ratio perspective, the Denon AVR-E300 is an excellent deal and it shows a positive sign that technology is finally becoming more affordable and more mainstream users can take advantage of things like wireless convenience. The $250 Denon AVR-E200 is an attractive deal as it stands and the audio performance alone should match up with the AVR-E300 well. But if you have $400 to spare, you will get so much more including an additional HDMI input along with USB and Ethernet inputs. Networking streaming opens up a lot of possibilities especially if you have Internet and a smartphone or tablet. Automatic speaker calibration makes the setup easier as well. You will only have to consider the new $600 Denon AVR-E400 if you need 4K and multi-zone support.