Smartphones are now a way of life. Everyone has one and cannot live without it. Even when watching movies at home, the phone is by our side. The ubiquitous use of smartphones has spewed a proliferation of apps have really changed the way we control home theater content.
It can even make watching movies at home more fun. Just do a quick search for an app that is applicable to your AV receiver or HDTV. Nowadays, almost every manufacturer has an app. But it's not limited to just hardware. DirecTV, TiVo, DISH, Verizon, Slingbox, Netflix, and a many other service and software providers also have apps. With the well thought out features they do provide a lot of fun and functionality.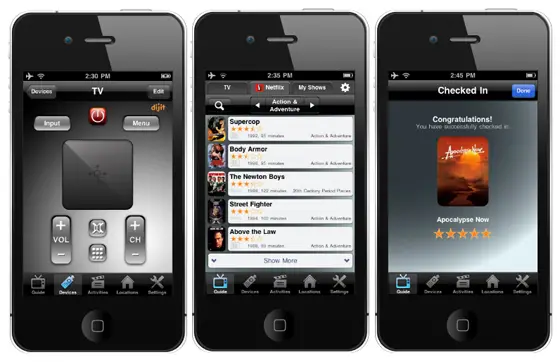 Most apps are free, otherwise they will not cost an arm and a leg. But finding them that can sometimes be quite challenging as they have names you are not familiar with like the free Dijit app by NextGuide which combines listings from any live TV service with movies and TV shows that can be found and played on Hulu Plus, Netflix, and iTunes, with rich searching capability, alerts, and one-click watching. Another free app called Plex puts everything, including TV, videos, music, photos, and much more, into the palm of your hand.
Another useful app is "Audiocalc & Videocalc" (available for iOS) that helps you optimize your home theater's audio and video outputs. Whether you're trying to check the power of your amp, or figure out where to place your projector, this app have you covered. Costing only $3, it's definitely cheaper than hiring an installer.
For more apps, try iTunes app store and look under the 'Entertainment' category. The only problem is that it is such a broad category which makes finding the app that you want rather difficult.
Have fun exploring and playing with your new found apps!
https://av-receivers.net/wp-content/uploads/avr-logo-500px.png
0
0
avguru
https://av-receivers.net/wp-content/uploads/avr-logo-500px.png
avguru
2013-04-20 14:10:45
2013-04-20 14:26:01
Get Home Theater Apps To Improve Your Viewing Experience