There are a lot of big name companies that are active in manufacturing home theater receivers. Home theater receivers are essential components in the living room for those that need to fully make the most out of their speaker setups for multiple home theater components. Releasing around 5 to 8 different models should be enough to cover the major crowds are there are some people that simply want sound amplification at a budget while others need higher wattage for larger setups. But Onkyo has far more offerings than most other manufacturers. Head to their website and you could find as many as 13 different home theater receiver models. This makes choosing a particular product for your own needs very difficult. But checking out each model can be rewarding because you will eventually find something that perfectly fits your needs and you won't have to pay a fortune. The Onkyo HT-RC460 is on the low-end spectrum when it comes to the price and it is one of the two models with the "HT" prefix. But what really stands out in this entry-level model is the many features that this model has. Many of these features don't even make it to competing models in this price point.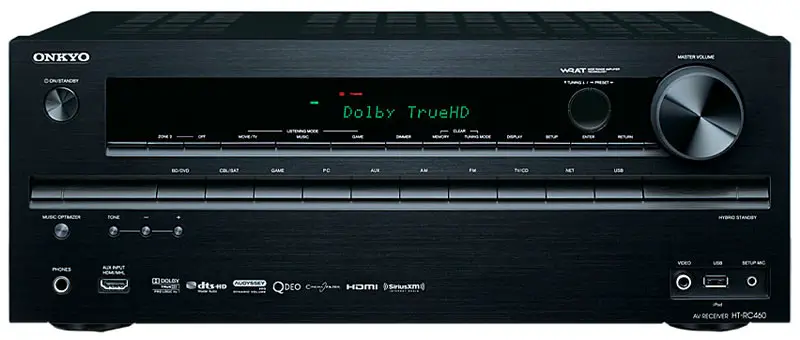 Design
The Onkyo HT-RC460 has the looks of an entry-level AV receiver. There is only one knob that controls the master volume. The input selector takes the form of a row of buttons so you can easily switch to the source you like. The rest of the buttons are fairly standard and the display is quite small for a 20-pound AV receiver but it is capable of showing many indicators. The user manual goes as far as describing each one, which is nice.
The jacks and ports on the back of the Onkyo HT-RC460 may pale in comparison with more expensive Onkyo models but the part that deserves a lot of recognition is the 8 HDMI inputs. Not everyone may need that many inputs but those that do have to pay a premium to get one of those higher-end models. Onkyo realizes that there are people that may want to hook up multiple gaming consoles and other devices especially since more and more gadgets are utilizing the HDMI standard. One of the HDMI inputs is even located on the front of the home theater receiver and it supports MHL, which means that compatible phones can easily output content to the TV. There are also 2 HDMI outputs, which is also quite unusual for an affordable home theater receiver.
Below is the back panel layout. Click on image to enlarge for a clearer view.
Features
Because the HT-RC460 is quite cheap, there are not so many cutting-edge audio technologies that will do wonders to your home theater setup. But what matters most is that the Onkyo HT-RC460 nails the essentials. The HT-RC460 has no problems in decoding popular formats like DTS-HD Master Audio and Dolby TrueHD. Overall audio performance is exceptional thanks to other technologies including Audssey 2EQ and Dynamic EQ. Dolby Pro Logic IIz is also supported so you may optionally add front height speakers in case you wish to expand 5.1-channel soundtracks.
It is even possible to set up a beefy 7.2-channel surround sound channel configuration. But if you are contented with a 5.1-channel configuration, you can optionally use the Zone 2 functionality if you wish to distribute the sound to another room. The only downside is that digital inputs cannot be played on Zone 2.
Qdeo's versatile video processor is onboard the Onkyo HT-RC460 as well and it fully supports the upcoming 4K displays. The video upscaling technology works well and it effectively erases video jaggies for improved imagery. However, you cannot upscale component input sources to HD resolutions.
Entry-level home theater receivers should be easy to configure and setup but Onkyo takes a unique approach to simplicity. Rather than having an interface that takes up the entire screen, the HT-RC460 features an on-screen display which works similarly to those TV interfaces. The menus are organized well but they are laid out in such a way that it won't distract whatever program you are watching.
Onkyo also makes installation pretty simple as it includes color-coded labels to make it easy to identify speaker wires. There are also labels on the HDMI ports so you can quickly make the connections. The HDMI input ports are all identical so you won't have to worry if you have other devices that you wish to connect. In fact, the interface has this visual port management technology called InstaPrevue, which makes it easy to select an input source. Live video thumbnails are shown when you bring up the menu to change the source. For instance, if you have two different gaming consoles running, you can immediately switch to the one you like even if you forgot the port name thanks to the thumbnail.
The Onkyo HT-RC460 is just an Ethernet cable away from connecting to the home network. This opens up the other cool features that this inexpensive AV receiver has to offer. It also adds another way to control the HT-RC460 remotely. A free app called Onkyo Remote App 2 can be installed to both iOS and Android devices. Once the Onkyo HT-RC460 is connected to the network, you can use the app to control the input sources or change the settings. Android devices including the Kindle Fire can also stream audio to the AV receiver.
AirPlay support is unfortunately absent but iPod and iPhone owners can still use the USB port for playing back stored music. The USB port can also read flash drives that have MP3, AAC, WMA and even FLAC file formats. Sound quality should be noticeably better than sources that use analog connections. The HT-RC460 also integrates nicely with the Apple TV. Other servers can connect to the home theater receiver too as long as it these servers are DLNA-certified.
Like many other home theater receivers with network capabilities, connectivity to the Internet is pretty limited. There is no web browser and you cannot access any social networking or video sharing sites. Fortunately, there are plenty of Internet music services supported including Last.fm, Rhapsody, Spotify, SIRIUS XM, Pandora and Slacker. When new firmware updates are available on Onkyo's site, the Onkyo HT-RC460 can easily retrieve them online.
Bottom Line
The Onkyo HT-RC460 is priced at $550 and you may find lower prices if you search other online retailers. Even at $550, this is a fantastic home theater receiver with plenty of ports, a simple user interface and useful networking features. The overall audio and video performance shouldn't disappoint average consumers. It is definitely a model worth checking out before considering any home theater receiver that costs more than $600.