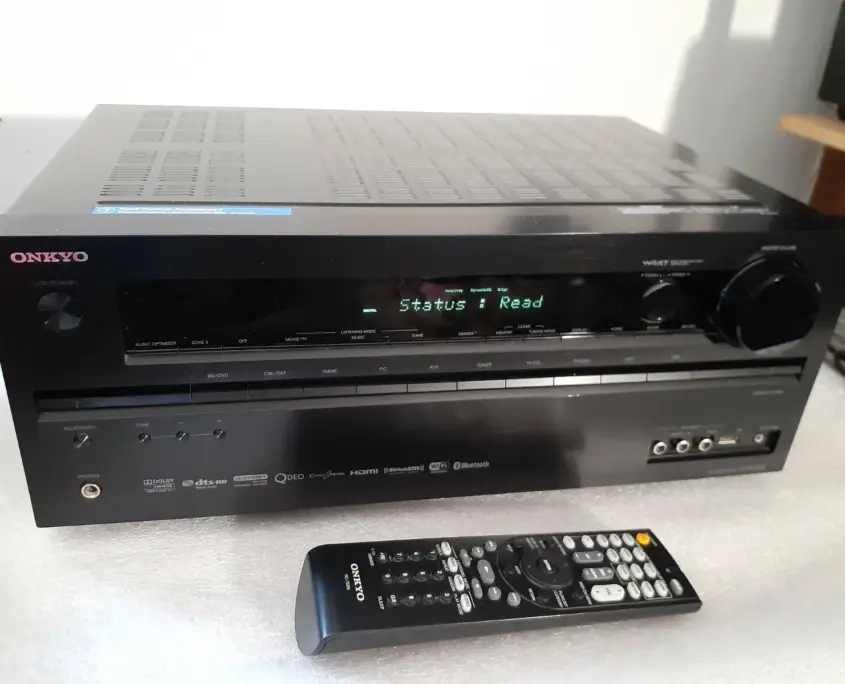 Manufacturers of home theater receiver products tend to release revised models every year. While the new features are normally minimal especially when you get to the entry-level, waiting for a new one to come out is rewarding because the new models that directly replace their predecessors cost the same price. That should be a pretty good deal even for some minor improvements. We have reached a point where you can buy a fairly solid 7.2-channel AV receiver for under $600. The Onkyo HT-RC560 is the North American version of the internationally known TX-NR626 and it has the exact same feature set. But the HT-RC560 isn't the only promising $599 receiver out there so it is important to know how well it performs and what value the features bring.

Design
The front of the Onkyo HT-RC560 looks pretty crowded with buttons and it is because the front lacks an input selector knob. Instead, you can find a row of input selector buttons across the middle the of receiver. This is a convenient way to switch to the appropriate input source although you have to make sure that you connect your devices to their proper labeled ports. Everything else about the front panel is pretty practical and you will find your usual arrangement of aux inputs, setup mic port and USB port. It is just too bad that there is no HDMI port because more people are finding it convenient to connect their modern Android smartphones directly to the receiver through an MHL cable and charge it too. The HT-RC560 does have an MHL HDMI port on the back along with 5 other HDMI ports. A second HDMI output is available as well in case you want to add another TV to the receiver.
Below is the back panel layout. Click on image to enlarge for a clearer view.
Features
If you are a fan of wireless networking features, you won't have to go beyond the Onkyo HT-RC560 model anymore unless you require other features because it has both Wi-Fi and Bluetooth built right in. The USB port on the front can remain vacant too since you don't have to any special dongles. Once you are connected with your Internet-connected router, you can immediately stream from a few online services including Spotify, Pandora and TuneIn Radio. This can be a valuable addition if your TV or other home theater components lack online connectivity features.
Having an iOS or Android-powered smartphone or tablet makes the HT-RC560 even more useful. Onkyo offers a free app called Onkyo Remote in the iTunes App Store and Google Play Store. This app enables you to stream any music stored on the device to the receiver as long as your device remains connected to the same router your receiver is hooked up to. From the name, the app provides a remote control interface too so you can actually change the input source, adjust the settings and manage multiple zones wirelessly. If you have other devices, Bluetooth is still an available option for wireless streaming although your device may have to be a bit closer to the receiver. AirPlay support is unfortunately absent though.
Setting up the Onkyo HT-RC560 is pretty simple for beginners as there is a Quick Setup option that lets you run through the most frequently used settings. Experienced users can check out the Setup Menu where you can go through all sorts of options organized into 9 different categories. One key part of the process is calibrating your speakers and much like other receivers, the HT-RC560 takes the Audyssey approach. Audyssey's MultEQ Room Correction technology does a pretty good job in adjusting the tone for each speaker. In addition, you can choose between the Movie and Music modes to bring out the best audio quality for the active input source. A few other Audyssey-powered options are available too including Dynamic EQ which lets you enjoy clear sound even at the lower volume levels. There are also a few Dynamic Volume level options that can tone down sudden transitions to higher volume levels.
All HDMI ports are 4K-ready so you don't have to replace your receiver with something superior or newer once you have a 4K display and compatible components. If you only have a 4K display, the Onkyo HT-RC560 can take a 1080p source and upscale it to 4K resolution through Marvell Qdeo processing technology. This technology can also bring up lower resolution input sources to 1080p. Switching to a different HDMI source using the remote control is pretty pleasant since the InstaPrevue technology displays live thumbnails of each source and you can assign them names too so you won't get confused.
For an 85-watt AV receiver, the HT-RC560 performs remarkably well after a full Audyssey speaker calibration. This is the kind of receiver you can count on for handling all sorts of content from action-packed movies to smooth jazz soundtracks. If you find the bass lacking, you can try out Onkyo's Phase-Matching Bass option to bring out those lower frequencies without negatively affecting the mids and vocals. But fiddling with the settings a bit more so you end up with a more manual setup can be more rewarding depending on your speaker arrangement.
7.1-channel sound systems are not exactly common but the Onkyo HT-RC560 remains as an attractive choice since you can keep a 5.1-channel setup in the main room and use the powered Zone 2 to play back another audio source. Once you set that part up, you can manage the Zone 2 quite easily with the Onkyo Remote mobile app.
Bottom Line
Packing networking versatility and decent audio quality was unheard of in previous years so it is great for companies like Onkyo to step up and make sure that the high-end and flagship models are really for audiophiles with huge setups and expect studio-like sound quality. But models like the Onkyo HT-RC560 trim those hardware specs but keeps all the features that make AV receivers a lot more valuable in the home theater system. The Onkyo HT-RC560 most certainly achieves that and as a result, deserves a top recommendation in the $599 category.