The Onkyo TX-NR3009 is a 3D ready high-end AV receiver second in line to the flagship TX-NR5009. This 9.2 channel receiver replaces the TX-NR3008. As with the TX-NR5009, the TX-NR3009 includes the major upgrades from the last year.
These include the latest HQV-Vida and Marvel Qdeo video processors. There is also the new DTS NEO:X for more 3 dimensional sound surround effects. This new state of the art receiver also includes new internet streaming radio channels like the Aupeo!.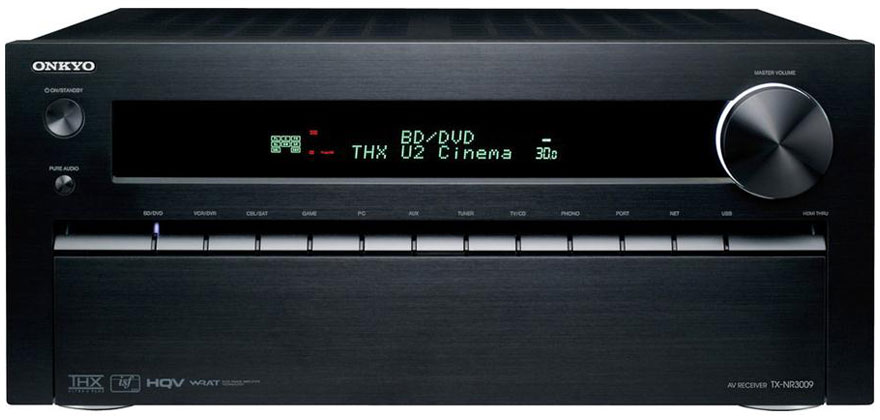 Design and Connectivity
The Onkyo TX-NR3009 brings to you an impressive set of features and connectivity. The first impression gives you a box in a box feel. Its weight gives you a sense of sturdiness that will offer quality performance.
The matte black front panel is designed with easy access input buttons that spans the entire width. The power button and master volume knob are on either side of the panel. This gives the receiver its well-balanced look.
The TX-NR3009 offers you a respectable number of connectivity for a mid-range receiver. There are 8 HDMI and 2 outputs for your display devices. There are 3 coaxial and 3 optical audio inputs, 5 are assignable. There are 1 USB port each on the front and back panel for convenience. The Ethernet port is available for internet radio streaming or firmware updates.
Although you get a set of 11.2 channel preamp channels, only 9.2 can be active at a time. You can manually select these channels based on your preference. The speaker connections are color-coded dual banana plug-compatible multi-way binding posts. They are very easy to remove with a turn of screw and a gentle tug.
The TX-NR3009 is also DLNA and Windows 7 Certified. This will give you easy access to digital media files that are stored on your computers, hard drives or cameras.
Features
The Onkyo TX-NR3009 is the THX Ultra2 Plus Certified. THX has collaborated with Onkyo to offer the best in equipment to match well-calibrated performance. This certification establishes performance based on room size and acoustics. The THX Ultra2 Plus usually certifies rooms with about 3000 cubic feet. Viewing distance is about 12 feet or further from your display.
The WRAT (wide range amplifier technology) power stages and the 3 Stage Inverted Darlington circuits deliver an effortless and clean sound. It also counters negative feedback. This technology was first introduced to high-end amplifiers to handle the sonic demands. Now it is available to the Onkyo TX-NR3009.
The TX-NR3009 features the latest audio decoding to offer and match the THX cinematic experience. It supports the usual high-resolution audio formats like Dolby Digital Plus, True HD and DTS-HD Master Audio. Also onboard is Dolby Digital Pro Logic IIz processing which gives you the option to add two more front height speakers.
The Audyssey DSX offers the option for extra height surround experience. These speakers can be positioned between the front and surround sound speakers. The TX-NR3009 is also comes with high-end 192 kHz/24 Bit Burr Brown DACs to give you unparalleled audio resolution.
This receiver has support for audio file formats like MP3, WMA, WMA Lossless, FLAC, WAV, Ogg Vorbis, AAC, and LPCM.
The video processors incorporate the Marvel QDEO video chips in their configuration. These chips can provide up to 4K of Upscaling. The IDT HQT Vida VHD 1900 chip for 1080p video sources.
For speaker and room setup the TX-NR3009 is equipped with the latest Audyssey MultEQ XT32. MultEQ32 has a quick setup mode where it will do a single position reading and calculate basic curves. This feature is a breeze to follow. If your room is oddly shaped, you may be quite thankful for this accurate function. It can analyze up to 8 different speaker placements to automatically give you the best sound levels, equalization and delay configuration. This will render a clear and well-balanced sound environment.
Performance
Movie fans will love the TX-NR3009. Monster House 3D in blu-ray was simply amazing. Watching parts of this animation gave you the feeling of being in an amusement park. The scene where the children were looking into the 'throat' of the monster house, made you feel like you were on top of a roller coaster. The depth and separation made distances look more very realistic.
If you were watching this on a big screen TV, cinematic experience would be jaw dropping. Picture quality rendered was truly spectacular. Color accuracy was excellent. All the different colors would pop out at you. Primary colors were bright and vibrant. Blacks were rich and luscious. Whites did not look gray have a yellow tinge.
Contours and textures were very clear. Each tile on the roof or cracks was sharp. Fast moving objects had very little degradation or ghosting. The TX-NR3009 handled it very well. This could also be seen when you are watching any fast moving sports like Motor GP or the like.
Blu-ray performance for David Foster's Hitman Live was stunning. A true concert feel was captured by the TX-NR3009. Sounds were realistic. The expanded rear presence together with concert ambiance was amazing.
Dynamics were flawless and the sound detail was dripping with details! The front channels rendered superb clarity and fullness. Sound separation and directionality was very good. It gave you a true feel of a live concert. The differentiation on the highs and lows rendered a rich and 3 dimensional presentation.
The audio performance on the TX-NR3009 was overall stellar and audiophiles will be pleased. The receiver does run hot so make sure you have good ventilation around the unit.
Conclusion
The Onkyo TX-NR3009 feature packed and easy to use functions that push it to distinction. The performance of the processors and volume equalizers makes cinematic experience excellent. If you are looking for a slightly more affordable receiver that has great connectivity and offers solid performance and do not have too huge a room, the TX-NR3009 could be well worth considering. The Onkyo TX-NR3009 is an ovation worthy performing receiver that will be well loved amongst your family and friends.