The Onkyo TX-NR5009 replaces the TX-NR5008 as Onkyo's 2011 flagship receiver. Most of the excellent features were carried over from last year's model with incremental upgrades on power supply, video chipset and additional apps.
Sonic considerations are definitely high on the list of priorities when Onkyo designed this unit. On board is a massive toroidal transformer and power section that pushes out 145 watts for each of the 9 channels. To ensure the video quality matches up, multiple transformers are used for A/V processing. Performance standards are upheld with its THX Ultra 2 Plus certification.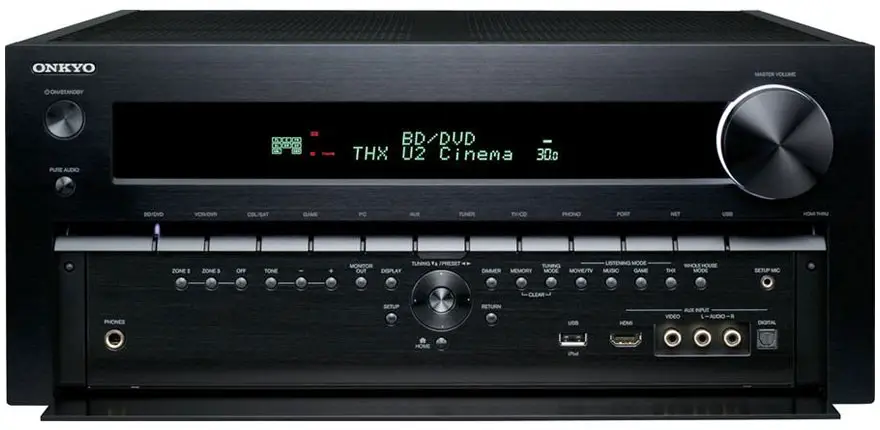 Design and Connectivity
Onkyo has redesigned the TX-NR5009 from the ground up. It now sports a clean design that is more squarish, but may look industrial to some. The chassis is encased in separate panels to reduce vibrations. With a matt black finish, it will be easy to fit into the rest of your electronic equipment. The layout of the quick-access, together with the master volume and power button, is simple to complete the look.
The Onkyo TX-NR5009 offers plenty of connectivity options. There are 8 HDMI Inputs and 2 Outputs. There are 2 USB ports, with 1 in the front.  You have the luxury of running both outputs simultaneously. There are 7.1 Multi-Channel Inputs and 9.2 Analog Pre-outs.
The TX-NR 5009 is DLNA and Windows 7 Certified. This will allow your other DLNA certified products to be connected on a seamless network. For example, if you have gaming consoles, camcorders or even cameras, you would be able to present your data on your DLNA certified TV. You will also be able to enjoy HD radio streaming.
There are 3 main areas under the hood. They are the power supply, amplification and the digital processors. In the front most area, you will find the power supply. The massive toroidal power supply sits in the middle front area. This sends powers to the amplification. Another smaller transformer delivers power to the video and processing. There is a third transformer to feed the pre-amp and audio processing.
You will find the heat sink running through the width of the receiver. There are individual mono amplifiers cards, which powers the speakers. The copper bus bar to ground circuits to prevent extra noise generation. A thermal protection monitors the temperature of transistors to prevent over-heating.
Below is the back panel layout. Click on image to enlarge for a clearer view.
Features
The 9.2 channel TX-NR5009 delivers 145 watts per channel and has ample power to handle a large room. You will be able to configure even the oddest shape room with the Audyssey DSX and Dolby Pro Logic IIz with additional height and width speakers.
On the audio side, Onkyo does not spare any costs by using the high end 192 kHz/32Bit Burr Brown DACs for improved resolution in audio playback and massive toroidal transformers for higher headroom in power delivery. Improvement in room correction is achieved using the latest Audyssey MultEQ XT32 room equalization. It also utilizes WRAT technology to provide you with clean effortless sound. For video processing, it uses Qdeo by Marvell. To top it off you get gold plating on all important connection terminals and speaker binding posts.
Onkyo is the first to introduce DTS Neo:X. This technology allows you to augment a basic 5.1-channel set-up by adding speakers in various combinations of height, wide, and surround channels. As implemented on the TX-NR5009, Neo:X can bring out subtle ambient sounds or even work around the need to install rear speakers to deliver a cinema-like experience. Like last years' models, both receivers include the related surround processing of Audyssey DSX, and Dolby ProLogic IIz.
In addition, the TX-NR5009 offers the support for latest audio formats such as Dolby Digital Plus TrueHD and DTS-HD Master Audio. It also support audio file formats like MP3, WMA, WMA Lossless, FLAC, WAV, Ogg Vorbis, AAC, LPCM.
Performance
The blu-ray performance of Despicable Me was very impressive. The Onkyo TX-NR5009 showcased the movie with pristine colors, accompanied with pristine details. The blacks were luscious and deep. Whites were very white without looking gray or yellowish. Reds, blues and yellows were bright and vibrant.
Picture quality was very clear and sharp, without compromising on looking too unnatural. Textures were very discerning. Facial textures and clothing textures were clear and it gives you a sense of effort the cartoonist or graphic designers had put in.
The 3D effects rendered on-screen were simply jaw dropping. The depth and separation was so well done that it brought more life to the computer-animated imagery. One of the best portrayals of 3D was when Gru was flying around in space. It makes you feel like he is almost flying in front of you, less than an arm's length away. There was minor ghosting or picture degradation.
The audio performance was a great way to test your speakers. With all the powerful effects of the bombs and missiles going on, the TX-NR5009 was still able to render clear dialogue. When you are at the amusement park with the kids, you will feel like you are there with them. The spatial coverage of the audio was excellent. The overall quality was so impressive that it will make Gru the greatest villain on 3D.
The blu-ray version of David Foster's Hitman is often used as our reference disc. It is an awesome re-enactment of the live concert right in your living room. First off, the TX-NR5009 delivered stunning video quality and depth. Colors were strong and well saturated. There was superb clarity and details were very life-like.
The audio processing of the soundtrack was rendered in clear and distinct manner. The TX-NR5009 created a soundstage that was captivating and lured you into realism. The spatial layers of the percussion, strings and vocals were very distinct, giving you a 3 dimensional experience. The power reserves of the NR5009 is best demonstrated on the Feeling Good track with Michael Bublé. The sonic impact of the full orchestra and the punch induced by the brasses is nothing short of stunning. Basses, mid-range and the trebles were very well balanced. Turning the volume up does not overpower, nor does it create distortion. You can safely turn up the volume as loud as you want as long as your room or your neighbors can handle it.
Conclusion
The Onkyo TX-NR5009 is a high-end receiver that is solidly built and delivers absolutely excellent video and audio performance. Attention to details were not left out as can be witnessed with its conveniently backlit remote as well as an overlaid graphical OSD for simple and seamless adjustment of settings during a movie or game. It demonstrates Onkyo's ongoing commitment to offering innovative and high performance AV receivers to film and music lovers.