Building a home theater system can cost you hundreds to thousands of dollars depending on your choice of home theater components. If you want the most futureproof and advanced home theater system, it may sound logical to go for the most expensive components. Buying a flagship HDTV model, for instance, will most likely give you an immersive 3D experience with plenty of wireless connectivity. If you have a much bigger budget, you can even wait a few months until the first consumer 4K displays come out which are sure to cost thousands of dollars but you get the best visuals. A high-end Blu-ray player is also logical so it can take advantage of the 3D content and upconvert content to 4K resolution. A 7.1-channel sound system is a pricey but worthwhile investment too because the sound quality is miles ahead of smaller setups when it comes to surround sound quality. But is spending $3,000 for a flagship AV receiver like the Onkyo TX-NR5010 also a good idea? Find out in this TX-NR5010 review.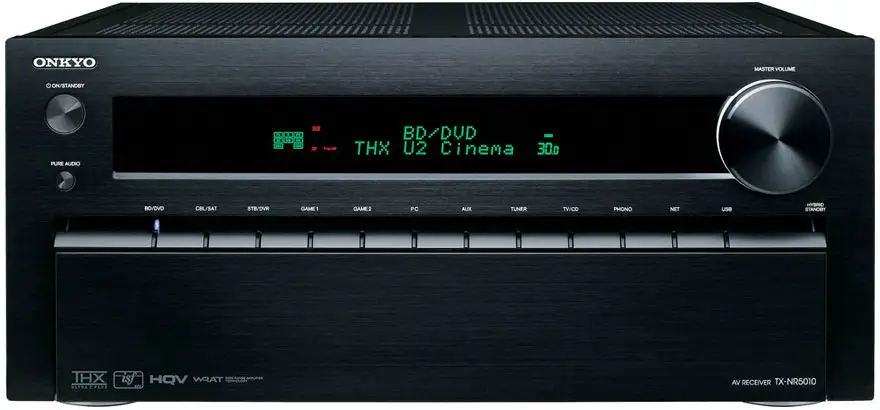 Design
By looking at the exterior of the Onkyo TX-NR5010, you probably won't think that this flagship AV receiver is worthy of the $2,999 price tag. In fact, it has the same design elements as some of the far more affordable Onkyo AV receivers. That isn't a bad thing because Onkyo worked hard in not only making a durable exterior but also properly positioning the most important buttons. For basic controlling of the AV receiver without the remote control, you can easily change to the input source you like by pressing its corresponding input source button. For instance, if you plug in your Xbox 360 game console to the "Game 1" HDMI port, all you have to do is press the "Game 1" button so you can enjoy your Xbox 360 content. Unlike most other AV receivers, the input source buttons are positioned a bit further apart so you are less likely to get confused.
The bottom panel can be opened to reveal the rest of the buttons for operating the GUI and other features of the TX-NR5010. Opening the bottom panel is also necessary if you want to plug in iPod and iPhone devices to the front USB port or Android devices and other portable media devices to the HDMI port. There are also AUX inputs and a phones jack for legacy devices. The most unique thing about the Onkyo TX-NR5010 is that these ports are gold-plated to prevent oxidation.
Going to the back of the TX-NR5010, the connections are very much the same as the TX-NR3010 which is about $700 cheaper. Upon closer inspection, there is an additional optical input on the back of the Onkyo TX-NR5010 for a total of 4 optical inputs including the one on the front. As for everything else, most of the other ports are gold-plated including one of the 8 HDMI inputs on the back. There is also a second HDMI output which has a dual purpose where you can either hook up a home theater projector without unplugging your HDTV or you can take a long HDMI cable and plug in another HDTV positioned in another room so you can output a separate video source there.
Perhaps the biggest design change that really makes the TX-NR5010 unique out of the other 2012 Onkyo TX AV receivers is the toroidal power transformer contained in the system. If you are familiar with older high-end models like the TX-DS989, this power transformer works the same way by reducing magnetic flux and preventing air gaps. This maximizes the efficiency of this AV receiver even though it has a high power output of 145 watts per channel. This independent power supply design also generates the least amount of noise even if it is running in high temperatures so you are sure to get the clean audio outputs no matter how large your speaker system is.
Below is the back panel layout. Click on image to enlarge for a clearer view.
Features
The Onkyo TX-NR5010 is really built for audiophiles that don't plan on upgrading the AV receiver for a very long time because the available pre outs combined with the DTS Neo:X conversion technology makes it possible to convert 7.1-channel systems into 9.1 , 11.1 and 11.4-channel outputs. This means you can have Wide and Height channels applied to game, music and cinema modes. You can also deliver powered audio to three zones in case you want to set up speaker systems in other rooms in the house. Both the Audyssey DSX and Dolby Pro Logic IIz are still available as options for expanding your soundstage so you can hear more defined ambient sounds. You get the best results if you use the Audyssey MultEQ XT32 to fully calibrate your AV receiver along with every individual speaker and subwoofer which shouldn't take so long.
While it is most common to plug in your portable devices to a compatible port on the front panel, the TX-NR5010 is also fairly capable as a networking AV receiver. Modern iPhone, iPod Touch and Android models should be able to download the free Onkyo remote app so you can toggle input sources or configure various settings from your device's touchscreen. This is just one of the benefits of connecting an Ethernet cable to your wireless router. But for a flagship AV receiver that costs $3,000, Onkyo should have added built-in Wi-Fi with the need for purchasing a separate dongle and AirPlay support but sadly Onkyo didn't.
Connecting the Onkyo TX-NR5010 also lets you access a number of popular online audio streaming services like Spotify, Pandora, Last.fm and other online services. If you have a Windows 7 computer that is sharing its media library, the TX-NR5010 can access the content as well. Although there is no support for video streaming services, the Dual Core Video Engine alone can boost any video content coming from your Blu-ray player or other component to 1080p or 4K if the TX-NR5010 is connected to a 4K display.
Bottom Line
In terms of features, the Onkyo TX-NR5010 is very much identical to the cheaper TX-NR3010
. By paying $700 more for the TX-NR5010 instead of the TX-NR3010, you are basically getting a high-end AV receiver with gold-plated ports. But the toroidal transformer is main highlight here and the high efficiency makes this AV receiver worth every dollar if you plan on using this AV receiver very often on your high-powered home theater setup.