Back in April 2014, Onkyo continued the molding of their 2014 lineup by unveiling 2 more home theater receivers for the enthusiast crowd. Like the predecessors, both of these receivers have THX certification. Priced at $899, the Onkyo TX-NR737 seems like the best model for a consumer to get if they want theater reference sound at a fairly low price point. On top of that, the TX-NR737 looks and feels like the entry-level models so you are essentially getting the power without the complexity. But audiophiles that want even more out of their audio experience with better setup flexibility will have to go for something like the Onkyo TX-NR838. It is priced above $1,000 which is still a very competitive zone in the AV receiver category but it comes with all the latest goodies that were first introduced by Onkyo's first pair of entry-level home theater receivers.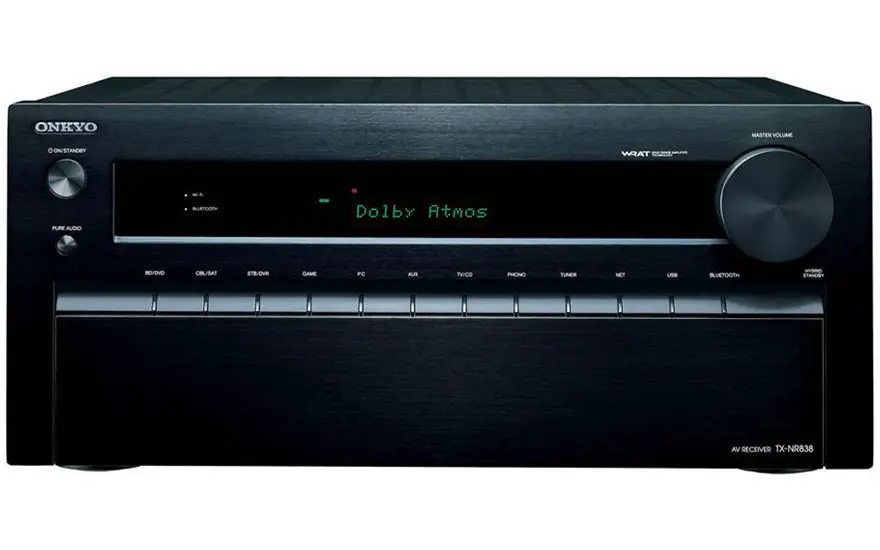 Design
The design of the Onkyo TX-NR838 doesn't break into new ground but those not familiar with the Onkyo series should know that the Onkyo TX-NR8XX series features a more advanced and busier front panel than the cheaper models. As a first impression though, the TX-NR838 does look minimal with large master volume control knob and a row of input selector buttons. The rest of the controls can be found beneath a panel that folds downwards. This panel must be left open if you wish to use any of the exposed front-panel connection ports. There are plenty of buttons there including various listening modes and multiple zones. Unlike the lower-priced Onkyo receivers, you have a full set of aux inputs and an HDMI input that supports MHL in addition to the USB port, phones jack and setup mic port.
There are a lot more connection ports on the back of the Onkyo TX-NR838 too but actually fewer compared to its predecessor. There are 6 HDMI inputs on the back instead of 7 which shouldn't be a dealbreaker for most people and there is only a single set of component video inputs. One of the main selling points of the TX-NR838 is its vast array of terminals for 5.1-channel and 7.1-channel setups along with extra pre outs and line outs to support additional zones.
Below is the back panel layout. Click on image to enlarge for a clearer view.
Features
The Onkyo TX-NR838 may have sacrificed a tiny bit in the connectivity front but it certainly added value to some of the HDMI ports. Out of the 7 HDMI inputs available, 5 of them support 4K video. That may sound like the TX-NR828 which also has a few 4K labels on top of the HDMI inputs to symbolize 4K passthrough but the HDMI 2.0 specification is a lot more. With this specification, the TX-NR838 can apply its sound reinforcement technologies to 4K content at 50/60 Hz. It also adds support for the 21:9 aspect ratio. In addition to that, the third HDMI input and primary output both support HDCP 2.2 which is a DRM copy protection standard that video streaming services, movie studios and satellite broadcasters plan on using. Support for this standard is necessary to prevent these sources from degrading to standard definition.
Thanks to the HDMI Sub Out, it also allows a second display to be connected to the receiver. 4K isn't supported in this port so you are only limited to routing 1080p content but it does serve as an easy Zone 2 setup where people can enjoy HD content in another room while folks in the main room can enjoy something entirely different. With front channel bi-amping and multi-zone audio features, it is also possible to use the Zone 2 speaker terminals to power a set of stereo speakers located in another room. A power amp allows you to create a third zone too. You also get the option to assign the receiver's Surround Back channels to bi-amp the front speakers.
The TX-NR838 unsurprisingly features internal wireless LAN and Bluetooth components so there is no need for dongles. Even if many other modern home theater components have these wireless features, it does make it easier and more pleasant to control the receiver with a smartphone or tablet thanks to the Onkyo Remote 2 app. Available for both iOS and Android, the interface of this app is pretty friendly and it makes it easy to control multiple zones if you have them set up. For instance, there is this "Whole House Mode" which is just a touch away and it sends whatever you are playing on your mobile device to all zones. When connected to the Internet, the Onkyo TX-NR838 can also independently access some music streaming services like Spotify and Pandora.
Performance
At 160 watts (6 ohms), this receiver is a pretty impressive powerhouse and all the fancy technologies and circuitry gave this receiver THX certification. THX certification isn't exactly new to Onkyo high-end models but Onkyo did manage to add some improvements to make the TX-NR838 an even more serious upgrade even when the 4K features aren't considered. One of the new features of this receiver is ability to connect a record player – a feature that is shared with the more affordable TX-NR737 model. However, users of the TX-NR838 can also take advantage of another feature called Pure Direct Analog Path which improves the audio quality of vinyl even further by keeping the signal analog as it passes directly from the analog inputs to the amp and finally to the front speakers. This technology can be used to enhance music coming from CD and Super Audio CD content too. Super Audio CD actually gets an extra treatment because of the dual 32-bit DSP engines that can decode hi-res audio files rather efficiently and keep the playback smooth.
Like its predecessor, the Onkyo TX-NR838 relies on Qdeo's video upscaling technology to make sure that DVDs and other non-4K sources actually look good on a 4K display. In an age where 4K displays are becoming more affordable, this technology is more important than ever.
Onkyo's entry-level receivers of 2014 surprised some folks with its use of a new in-house room calibration technique called AccuEQ leaving Audyssey completely absent. The TX-NR838 is going the same route too and the bottom line is, it works similarly to other room calibration approaches. A rather interesting feature of AccuEQ is its ability to enhance stereo setups.
Bottom Line
From the THX certification to all the 4K coatings, the Onkyo TX-NR838 is as future-proof as you can possibly get and it is $1,099 well spent if you have a penchant for lossless audio. It is hard to imagine what Onkyo's next receivers will be like next year because the age of 4K is just beginning.