Onkyo prides itself as being in the forefront of AV receiver technologies and their latest models always carry cutting edge features. The 2013 flagship of the mid-priced line, Onkyo TX-NR929 is designed along these principles and comes with advanced features that makes it future proof.
The TX-NR929 is a full featured 9.2 channel receiver with 4K UltraHD capability as well as Audyssey's top of the line MultEQ XT32 room acoustic equalization. Other features include built-in Wi-Fi for app-controllable multizone network audio streaming, built-in Bluetooth wireless audio technology, Zone 2 HDMI Out, and an expanded selection of online media streaming services.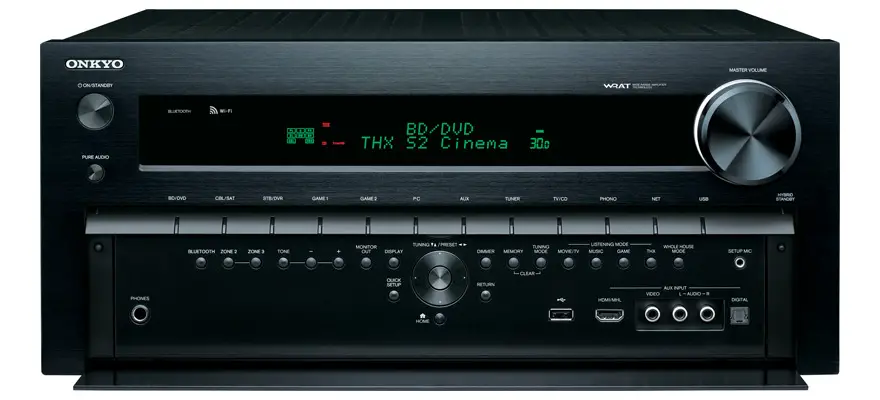 Design
The Onkyo TX-NR929 looks a lot like the other mid-range Onkyo models and pretty much has the same external build quality as other premium receivers made by Onkyo's competitors. But on a style perspective, the Onkyo TX-NR929 looks a bit different. The front panel only has one knob for the volume control and it is placed on the right side of the info display. Changing the input source involves pressing one of the buttons found just below the info display. Onkyo most likely made this choice to provide more room for additional controls. From Zone and Bluetooth buttons to Listening Mode toggles, the front panel lets you do practically everything you can do on the remote control.
If you need a lot of connection ports, the TX-NR929 has you covered with a pretty nice selection of ports on the front panel. There is a USB port for connecting flash drives and Apple devices and an HDMI input right next to it. This HDMI port supports the MHL standard so any smartphones that also support MHL can connect directly to the front HDMI port for transmitting 7.1-channel audio and HD video through a single MHL cable. Unlike the other mid-range Onkyo models, the Onkyo TX-NR929 also features an optical digital audio socket on the front panel.
Because of the additional number of supported channels, the back of the TX-NR929 features a rearranged layout with the speaker ports located on the bottom portion of the receiver. It is also worth noting that the Onkyo TX-NR929 has 8 HDMI inputs and 2 HDMI inputs. The TX-NR828, on the other hand, only features 7 HDMI inputs.
Below is the back panel layout. Click on image to enlarge for a clearer view.
Features
The Onkyo TX-NR929 has the same level of audio performance as the $999 TX-NR828 due to the same output wattage. Exceeding the performance of the TX-NR828 means making full use of the added channels. You can even add an outboard stereo amp so you can take advantage of the DTS Neo:X sound expansion technology which adds both Wides and Heights to your sound system. If you have smaller home theater systems, you can still make use of the Audyssey DSX and Dolby Pro Logic IIz technologies to add wide or height channels. If you are not going to utilize the sound expansion capabilities, you can still use these speaker ports to send different audio sources to speakers that are set up in 2 other rooms. Installation is as simple as plugging these speakers in the labeled Zone 2 and Zone 3 ports. The second HDMI output also lets you send HD video to another TV.
Making your complicated home theater system work with the TX-NR929 is surprisingly pretty simple. This receiver features an advanced auto-calibration system called Audyssey MultEQ XT32. This technology does a little bit more than the standard Audyssey MultEQ by analyzing how the sound is affected when it bounces off the walls and other obstructions so more balanced optimizations can be made. Audyssey Dynamic EQ and Audyssey Dynamic Volume still contribute as basic technologies that correct loudness and volume fluctuations.
Using the TX-NR929 is a pretty pleasant experience. Pressing the "Home" button on the front panel or remote control brings up a friendly menu where you can pick an icon to select a media source or choose a system setting you want to adjust through overlaid menus. The InstaPrevue technology not only lets you name your HDMI sources but also provides live thumbnails so you can visualize which component is connected to which port. With so many HDMI ports available, this ingenious feature makes source selection very simple.
The added Wi-Fi functionality also allows you to control the receiver using your smartphone or tablet. By downloading the free Onkyo Remote app for your Android or iOS device, you can give your mobile device a very friendly interface for managing zones and input sources. A separate Wi-Fi adapter isn't necessary since Wi-Fi is built-in. This allows you to conveniently connect to other devices on the router. It is capable of streaming MP3, WMA, FLAC, AAC and a number of other audio formats. However, you cannot use Appleís proprietary AirPlay technology unless you purchase the DS-A5 docking station. Built-in Bluetooth also means that smaller media players that don't have Wi-Fi features can still stream audio to the receiver.
If you are a fan of listening to radio stations online, you will be impressed with the vast number of services that work with the TX-NR929. This includes the heavyweights like Spotify, Pandora, Last.fm and SiriusXM as well as other decent services including Slacker, TuneIn and Rhapsody.
Thanks to the Three-stage Inverted Darlington Circuitry and Wide Range Amplifier Technology, the Onkyo TX-NR929 has stellar audio performance with no distortion even on louder volume levels. You can even give your speaker system an additional bass boost by using the Phase-Matching Bass technology which keeps the vocals in place while making mid-ranges clearer. On the video end, you can upscale content from older equipment to 1080p or even 4K resolution if you have a 4K display. It is no surprise for this receiver to get THX Select2 Plus certification.
Bottom Line
The Onkyo TX-NR929 is positioned as an upgrade to last year's TX-NR818. For a couple of hundreds more you get 2 extra channels, built-in Wi-Fi & bluetooth, additional connectivity options, and more importantly 4K passthrough that ensures you'll be able to enjoy UltraHD when the content is available.