Onkyo is already in a comfortable position in the home theater market but that isn't stopping the Japanese company from growing up even more. That was to be expected anyway since Onkyo merged with Pioneer's AV receiver group the previous year. This 2015, Onkyo announced a barrage of different home theater receiver models. Most of the models were refreshes and some looked similar to their predecessors but Onkyo also launched two new premium models that look to really freshen up the company's image. One of these receivers is the Onkyo TX-RZ800.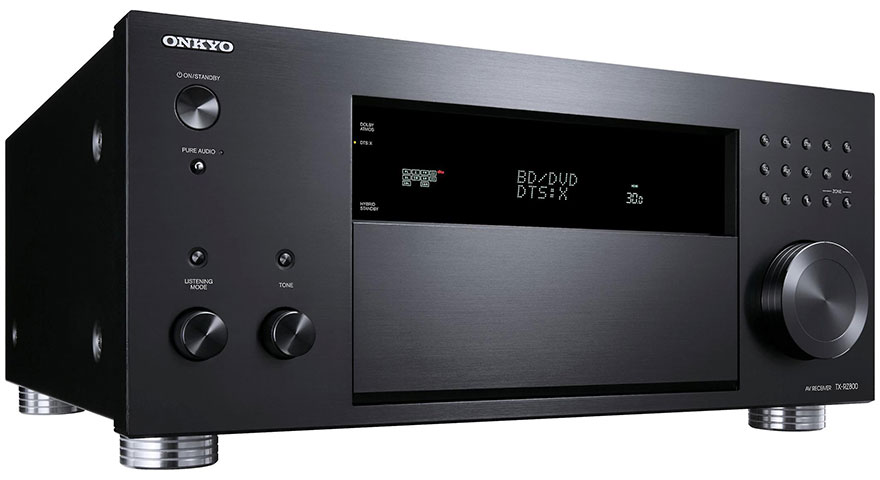 About the Onkyo TX-RZ800
The Onkyo TX-RZ800 is part of Onkyo's new RZ series which is positioned a notch above the more consumer-targeting TX-NR series. It shares many of the features of Onkyo's consumer flagship TX-NR747 also launched this year. This includes all of the new features and enhancements brought in to the TX-NR747 making this a very fresh and potentially big upgrade if you are coming from a home theater receiver released several years back.
Like just about all receivers priced above $1,000, the targets folks that really need stellar sound quality, require more connection ports and/or want the added custom installation benefits. These high-end features aren't exactly new though. If you look at the TX-NR1030, that model has the familiar RS-232C and 12V trigger outs too but the Onkyo TX-RZ800 shouldn't really be considered a successor to the TX-NR1030. The TX-NR1030 was a 9.2-channel receiver while the TX-RZ800 is just a 7.2-channel one.
However, the RZ series is a new family and the refined design shows. It took a page out of Pioneer's design language and spiced up the layout resulting to something fresh and quite unique. The input selector buttons have been moved to the side just above the master volume knob. The buttons are small but have initials so you can switch to a direct input source if you made the proper HDMI connections. The listening and tone buttons are still present but they now have corresponding dials so you can adjust the intensity of the tone or pick a mode after choosing a listening mode category. There is still a door that hides the rest of the buttons and HDMI input. 7 additional HDMI ports can be found on the back along with 2 HDMI outs.
Features
Like the TX-NR747, the Onkyo TX-RZ800 is THX Select2 Plus certified which symbolizes the receiver's ability to really bring out the raw true audio goodness. But that isn't as surprising as the hot new feature hitting the TX-RZ800 as well as some of the high-end TX-NR models – DTS:X. DTS:X is the fairly new technology designed to take on the Dolby Atmos technology which is present in many of last year's Onkyo receivers. Dolby Atmos remains supported on the TX-RZ800 allowing you to use two speakers as special height channels or ceiling speakers to achieve a 5.1.2 setup but DTS:X takes a similar approach but lowers the requirements. Dolby Atmos speakers are not needed to take advantage of DTS:X although they work well with the system if you do have them. In addition to that, you can independently adjust the volume levels of vocals from soundtracks and programs that support DTS:X.
The Onkyo TX-RZ800 is also one of the first ever home theater receivers to support HDMI 2.0a. The original HDMI 2.0 specification is still quite futureproof when it comes to 4K capabilities but 2.0a adds HDR support so you get better contrast. This HDMI specification grows more significant by the day as studios will soon roll out 4K content complete with the copy protections. HDCP 2.2 handles all of that and this receiver supports the standard as well.
AirPlay, Wi-Fi and Bluetooth functionality top off the wireless features of the receiver. It is nothing really new since past Onkyo receivers have these features. Onkyo can directly access certain music streaming services like Spotify, Pandora, TuneIn, Slacker and SiriusXM Internet Radio. The free Onkyo Remote app for Android and iOS makes it possible and you can use that app to configure or control the receiver via Wi-Fi as well. Hi-res audio streaming from networked devices is supported, too.
Finally, the TX-RZ900 is good option for multi-room configurations thanks to the second HDMI output that you can connect a regular HD TV to in another room. A Zone 2 digital audio along with a network audio output can be used as well.
Below is the back panel layout. Click on image to enlarge for a clearer view.
Performance
In addition to the front panel design change, the RZ series also equates to more power. 185 watts per channel brings the Onkyo TX-RZ900 to audiophile levels but it doesn't just stop there. The receiver is also powered by an original technology called Vector Linear Shaping Circuitry. It focuses on very smooth analog signals by removing pulse noises that normally generate in D/A conversion so the sound waves have far higher fidelity. Combined with the Ultra-Low Frequency Hi-Current Amp and cutting-edge Asahi Kasei 384 khz / 32-bit DAC, lossless audio quality is really good. Movies sound on par with other THX-certified receivers but the DTS:X and even Dolby Atmos can really shake up the movie experience. There just needs to be more movies supporting these technologies. Of course, to really get the best performance, you need to use the AccuEQ room calibration.
Conclusion
Pros:
• THX Select2 Plus certified.
• Refreshed design looks nice.
• DTS:X has the magic of Dolby Atmos without the requirements.
• Dolby Atmos still supported.
• Ready for any 4K TVs today and possibly upcoming ones.
• Lossless music quality is excellent.
Cons:
• Doesn't support Google Cast.
• Few reasons to upgrade from a not-so-old high-end receiver.
Verdict:
Onkyo has successfully surprised the stale home theater receiver industry with a new design along with a couple of extra features to make the RZ series a more complete version of past high-end NR models. It is hard to predict where Onkyo and the others will go from there so this looks like the perfect time to really get onboard Onkyo especially if you are ready to enter the THX-certified realm and need custom installation.
Update: There is a newer model > Onkyo TX-RZ810