The Pioneer Elite SC-55 is the latest high-end Elite model. It is part of the third generation multi-channel and part of the Class D3 receiver. This is the only model in this class to offer THX Select 2. It is also the first time Pioneer has also built a receiver in a 9-channel configuration.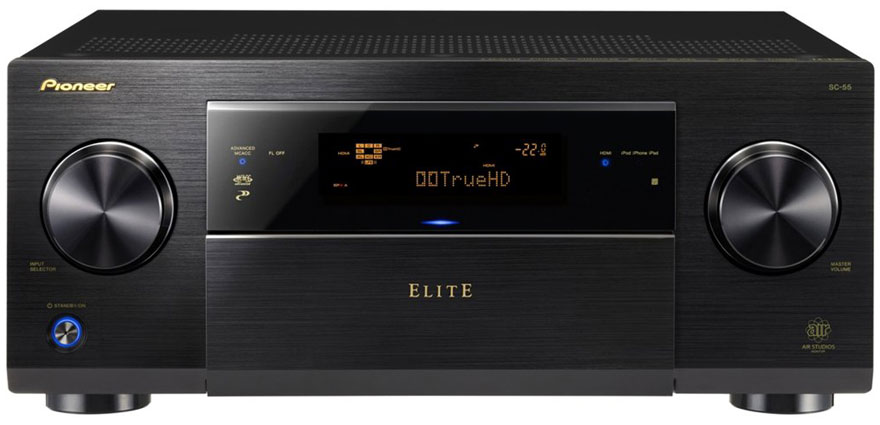 Design and Connectivity
The construction of this receiver is very well engineered. It has everything you need in a single chassis. The front panel is made of aluminum. The incorporated 3D Space Frame Design reinforces the physical strength of this receiver. This also helps to reduce the signal interface and path. The Advanced Direct Construction of the Pioneer Elite SC-55 will render a highly efficient and equal amplified power. This will ensure that there will be optimum and consistent sound quality.
To qualify as a Class D3, this receiver must be power efficient, streamlined and versatile in terms of construction. The SC-55 needs little energy in supporting all the power outputs. It is built to reduce distortion and does not have negative feedback loops. It is versatile because the SC-55 has the ability to bi-amp, support multi-zones and zones 2 and 3. The other characteristic of a D3 is the ability to perform better during low impedance loads.
The Pioneer SC-55 has all the latest connectivity and networking features. It is DLNA v1.5 Certified. This will allow you to hook up to any other DLNA certified products. You can play any music, movies or photos from your Windows-based PC and transfer this to your display. It supports LPCM, MP3, WMA, WAV, JPEG, AAC and high-resolution FLAC. (as a side note, there is no VGA for this model) Internet Radio is now available in high-definition. There might be more compelling reasons to make use of the Online Services available. Pioneer has collaborated with Pandora, Rhapsody and SiriusXM Radio, and vTuner for your online listening pleasure. (Rhapsody and SiriusXM Radio will need subscription)
The Elite SC-55 is also Apple Ready. You can connect your iPhone, iPod, iPod Touch or iPad to the receiver to control and play music with AirPlay. The GUI interface on this model can support album and cover art. This feature is also multi-zone compatible. You can download the iControlAV2 app for extended control. It is also compatible with some Pioneer Blu-ray Disc Players.
The Pioneer Air Jam App is very useful if you have a bunch of apple products, or a bunch of friends with apple products. This has the capability to allow you to create and share your playlists. You can connect up to 4 devices with Bluetooth.
The proprietary AVNavigator will make set-up and use of the SC-55 even easier. This is an interactive manual which will help you to customize and take you step-by-step through certain processes. This is based on your PC's platform, so network it to the receiver before you start.
For speaker calibration, the Elite Manual and Auto Advanced MCACC will help you calibrate your sounds. This is quite easy to use but you may need to make minor adjustments for individual tastes. You are able to save your calibration preferences in an USB.
There are 7 3D compatible HDMI Inputs (1 front) and 2 Outputs. You get 3 Component Inputs and 2 Outputs and use the second one for Zone 2. There are 4 composite video and 1 composite video input in the front. There are 1 USB each on the front and back. The Ethernet port will be your access to internet streaming and for future firmware updates. There is also a Bluetooth docking port at the rear.
Below is the back panel layout. Click on image to enlarge for a clearer view.
Features
The Pioneer Elite SC-55 is one of those receivers that will render a perfect immersive experience with uncompressed audio on blu-ray. The Marvell Qdeo video, Advanced Video Adjust, Stream Smoother and THX Select2 Certification will help to enhance your image, scaling and overall performance.
If you are streaming from the internet or from a different source, these features will reduce the artifacts from compression. The Video Adjust will refine motion, minimize noise, and render vibrant colors and better contrast and black levels.
This 9.1 channel receiver pushes a hefty 140-watt. It is recommended for a room that up to about 2000 cubic feet. The SC-55 has decoding features for Dolby Digital Plus, Dolby True HD, Dolby Prologic IIz and Dolby Digital 5.1. It also has decoding support for DTS-HD Master Audio, DTS 5.1 and DTS Neo:X. Pioneer uses 2 TI Aureus engines by Texas Instruments for their DSP.
Dolby Prologic IIz can add 2 more front height speakers. The DTS Neo:X can add back surround and front height for background sounds. Or, you can add back surround and front width speakers for sound field expansion. You can also have just the front height and width speakers without the back. You are free to configure up to 7 different options.
You will also be able to create a full 5.1 system and assign the rest to Zone 2 or 3. You will have full control at the receiver. If you want to utilize all 9.1 channels, you can still have a 2-channel system running in another zone. You need to use the Preamp Outputs for this.
Performance
We used Kung Fu Panda 2 on 3D blu-ray to test the video performance. This top class animation by Dreamworks was sharp and clear in spectacular 3D as we'd expect. Details of each character and background object were immaculate. Every hair and fur moved in flawless motion allowing the details on the evil Peacock's feathers to present itself in intricate fashion.
Good contrasts between the whites, reds and orange produced a vibrant feel to the movie. Blacks were deep and luscious. Even our hero Po's black fur was well delineated in lower-light scenes and did not just melt away into the background. This speaks well for the Marvell Qdeo video processing engine.
The 3D motion was clean and judder free. The SC-55 offered superb separation. When watching the Peacock and Po's chase sequence in the forest, 3D experience was dazzling. You would probably feel like dodging the cannonballs or flying arrows during the combat scene by the sea. The scenes and images had enough depth and separation to keep your eyes glued to the display.
The audio soundtrack for this animation was quite impressive as well. It was recorded in Dolby TrueHD 7.1. Experience was exciting and truly entertaining. Dialogue was clear even though there was always background sounds. Spatial directionality was something that was very impressive in this soundtrack. Voices moved with the characters, from one end to another. The different sound effects like flowing water, crackling from the burning wood or squeaky wheels were very well defined. Basses were tight and loud, but not over-powering. The different element s of sounds came together to deliver an accurate, exciting and lossless soundtrack.
We also used the blu-ray version of David Foster's Hitman to work the Pioneer SC-55. Colors were well saturated with skin tones being very accurate and blacks appearing deep and luscious. Details and contrast were exquisite. You can see the textures of the different fabrics of David Foster and the other artists.
Audio performance was incredible and lively. The recording will make your room a living soundstage. Voices were never overpowered by the accompanying orchestra. The lossless Dolby TrueHD 5.1 surround track rendered an engrossing and breathtaking sequence. The trebles were very stable and clean. The LFE output delivered an earthy, robust bass. The dynamics of the track may make your room feel a lot more spacious than it is!
Conclusion
If ever there is a complete receiver that has everything you need and the power to deliver the audio goods, the Pioneer Elite SC-55 would make an obvious candidate. Its excellent Marvell Qdeo video processing chipset coupled with Class D amplification that dishes out clean effortless sound promises to make watching movies at home a more satisfying experience.
Update: There is a newer model > Pioneer SC-1523-K