$500 is a huge investment for a home theater component that enhances the home theater experience. If your HDTV has enough HDMI ports, your system should be good to go once you have the media player and sound system. But your sound system won't be able to utilize its full audio capabilities unless it is hooked up to an AV receiver. $500 used to be an entry-level price but technology is pushing it to the mid-range area where you can enjoy more features that expand beyond audio enhancements. Pioneer wants to make that clear with their new 2013 VSX home theater receivers that target average consumers. Find out why the Pioneer VSX-1023-K is a good recommendation if you have that $500 budget.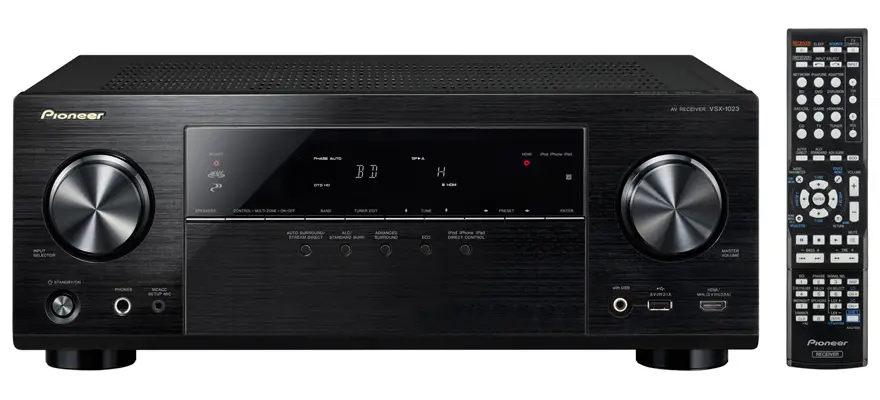 Design
Home theater receivers with brushed metal finishes are pretty common and Pioneer is part of that trend. It is good that Pioneer gave the Pioneer VSX-1023-K that premium look so it blends better with the rest of the home theater setup. Although the Pioneer VSX-1023-K has more features than the cheaper Pioneer home theater receivers, the layout of the front panel is very much the same. It has the typical info display situated between the two knobs with some thin buttons on the bottom of the display. There are five more circular buttons for controlling the rest of the home theater receiver functions. The minimal arrangement of front panel ports should allow you to connect any type of iPod, iPhone and iPad using the USB port as well as any other type of smartphone or portable gadget that uses the HDMI port. Unlike the past models, the USB port has been updated to support new Apple products that use their proprietary Lightning cables. This means that iPhone 5 and iPad Mini owners can playback music the traditional way through the cable and charge the device simultaneously. The newest Android smartphones also get that kind of treatment thanks to the MHL 2.0 support. All HDMI ports are also updated to handle 4K Ultra HD pass-through for those very large TVs.
Below is the back panel layout. Click on image to enlarge for a clearer view.
Features
The VSX-1023-K is capable of delivering 560 watts of clean and crisp audio reproduction. This is enough to setup a 7.1-channel speaker system making this Pioneer AV receiver the most affordable home theater receiver if you want that kind of setup. 7.1-speaker systems isn't exactly very common which is why it is so important to have some flexibility. Pioneer brings that flexibility to the Pioneer VSX-1023-K by offering multi-zone audio support. This works by setting aside two amplifiers to power a pair of speakers located in another room. This opens up the possibility of setting up a small stereo system in the room while the living room has the standard 5.1-speaker configuration complete with surround sound. The VSX-1023-K brings out all the modern goodies including Dolby TrueHD, Dolby Pro Logic IIz and DTS-HD Master Audio for an optimum Blu-ray experience.
Proper speaker calibration is necessary to get notice the audio quality improvements and the exact adjustments that need to be made depend on how big the speakers are and where they are positioned. Pioneer's Multi-Channel Acoustic Calibration system assesses these parameters automatically so you won't have to worry about them. Even if you prefer putting all the speakers on the front you can use the Phase Control to create a virtual surround sound environment.
Overall, the Pioneer VSX-1023-K really pushes itself to improve audio quality. Some technologies like the Advanced Sound Retriever do a great job in improving the quality of MP3s by restoring some of the data lost by compression. This is great for smartphone users since the limited amount of space often encourages compression so you can store more music tracks. Also remember that you can plug in flash drives in the USB port to play back MP3 files as well. Other formats that are supported include WMA, AAC, AIFF, Apple Lossless and FLAC. Auto Level Control also helps in normalizes the volume if you frequently switch between sources.
The Ethernet port on the back opens up a world of networking and online possibilities which is great if your TV or Blu-ray player lacks the network functionality. When connected to a router with an Internet connection, you can go ahead and access popular services like Pandora and vTuner Internet Radio right from the Pioneer VSX-1023-K. If online services don't interest you, the VSX-1023-K can still be used as a simple network streamer. Apple's AirPlay technology is fully supported so iPhone, iPad, and iPod Touch users with a recent version of iOS can go ahead and stream their favorite tracks to the AV receiver wirelessly. Laptops and desktops equipped with iTunes can also use AirPlay to stream in a similar fashion. Android users can't utilize AirPlay but HTC devices can use a similar technology called HTC Connect for wireless streaming purposes. Other Windows 7 and Windows 8 users can take advantage of the DLNA 1.5 support although it takes some extra steps to set up.
Another way to stream music wirelessly is through the Pioneer ControlApp which is available for iOS and virtually all devices running Android. This not only serves as an interface for streaming but it provides a full touchscreen GUI for controlling many aspects of the Pioneer VSX-1023-K. It is much more fun to use this app instead of the remote control it comes with. For Bluetooth connectivity, you will need the Pioneer AS-BT200 adapter but given all these cool networking features, this adapter shouldn't be needed by most people.
A new addition to the 2013 series of Pioneer VSX devices it the ECO mode. This mode can be activated from the front panel or the remote and it serves as a more efficient standby option that continues to let the VSX-1023-K operate but only use 0.1 watts. It is a pretty nice breakthrough in power consumption.
Bottom Line
The real selling point of the Pioneer VSX-1023-K K is the 7.1-channel support as the rest of the features are present in the VSX-823-K which costs about $100 less. Therefore, the VSX-1023-K is a great buy if you think you will expand to a 7.1-channel speaker system one day. If you think a 5.1-channel setup is sufficient, it could still be a great purchase if you want to expand to Zone 2 without additional hardware.
Update: There is a newer model > Pioneer VSX-1024