There are a lot of pricey home theater receivers out there if you consider all the big manufacturers. But once you are focused on a particular brand and know what feature you want, the choice becomes a bit simpler. Home theater receivers in general are designed to last several years making it a big mistake to upgrade every year these manufactures release new models. But a common strategy is to not buy a home theater receiver during the Christmas season because manufacturers have this habit of announcing new models in the first quarter of the year. Pioneer is one of these manufacturers that opened up the month of March with an announcement introducing their new 2013 family of home theater receivers for the entry-level market. The Pioneer VSX-823-K is Pioneer's cheapest 2013 network AV receiver and is priced at $429. You can probably get the older model for under $400 but you should still go for the VSX-823-K as it has some interesting new additions.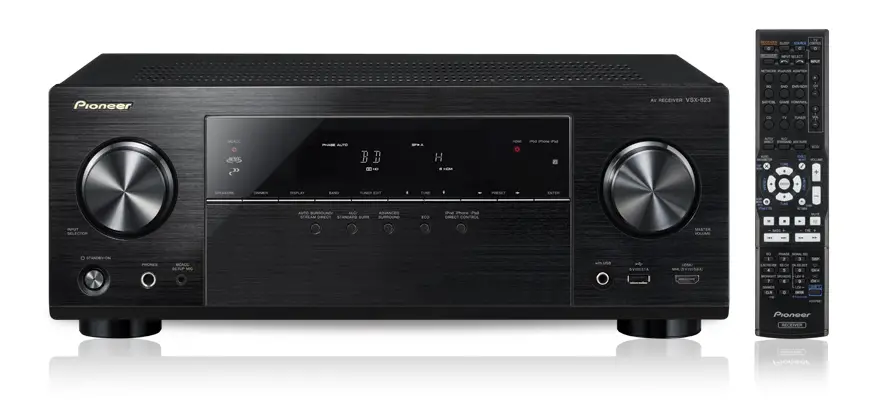 Design
Externally, the Pioneer VSX-823-K looks like most of the other home theater receivers out there. The brushed aluminum finish is nice though and it has the same style as the pricier and heavier Pioneer Elite AV receivers. The available buttons on the front are exactly what you would expect from a modern AV receiver. But gone are the days of putting composite jacks on the front of the receiver because more portable gadgets are relying on HDMI. There is one HDMI port on the front for convenient access and it is placed right next to the USB port, which is where you will plug in any Apple-branded gadgets.
The back of the VSX-823-K features 5 more HDMI inputs and a single HDMI output so you can hook up all your main home theater components along with a gaming console or two. Legacy options are limited though and you are restricted to 5.1-channel setups since the internal specs are pretty light.
Below is the back panel layout. Click on image to enlarge for a clearer view.
Features
The power rating is identical to the cheapest model of Pioneer's series, which means 400 watts of power. But the Pioneer VSX-823-K is richer in features and should be the model to get if you want networking to be a part of your home theater setup.
With iPhone and iPad devices dominating the market share in many places, it is important for home theater receivers to fully support these devices. This is why AirPlay connectivity is baked in and it enables you to use recent generations of iPhone and iPad devices as wireless streamers. All that is required is to hook up an Ethernet cable to the wireless router and you are good to go. Apple's AirPlay technology allows you to quickly send music to the receiver. Previous models featured AirPlay support too but it was the only way for iPhone 5, iPad Mini, and 4th generation iPad users to send music to the AV receiver. The VSX-823-K changes this as its USB functionality has been updated to support the new Lightning cables that these new iOS products rely on. Wireless streaming is more convenient but connecting through USB lets you charge the device too.
AirPlay is a propriety technology so other mobile devices don't support it although you can put iTunes in a laptop and use the feature as well. But if you have an HTC Android phone, you can still use the HTC Connect feature, which works like the AirPlay feature. The Pioneer VSX-823-K is DLNA-certified as well so any mobile devices with DLNA certification including all Windows 7 and 8 systems can stream content too. Various file formats are supported including MP3, WMA and even lossless formats like FLAC, WAV and Apple Lossless files.
If you are a huge fan of music services like vTuner and Pandora, you can stream music from these services directly from the AV receiver. This eliminates the need of plugging in a laptop to your home theater system if none of the other home theater components provide connectivity to these services.
Pioneer further taps into the networking capabilities of their AV receivers by introducing an app for all Apple and Android devices. The ControlApp is a freely available app that transforms your touchscreen device into an interactive remote control where you can change the settings and stream content.
Another nice improvement that is exclusive to the VSX-823-K and other Pioneer 2013 devices is MHL 2.0 support. New smartphones that feature MHL allow you to connect to HDMI sources using a special cable that connects to the device's micro USB port. Because it uses the USB port, this connection setup can charge the device too.
Pioneer's 2012 family of home theater receivers have a network standby mode that brings down the power consumption to 0.4 watts. This time around, Pioneer has a new feature in tow called ECO Mode, which lowers the figure to just 0.1 watts. It can analyze your usage habits and dynamically adjust the power consumption for better efficiency.
The last new improvement is something that probably won't be used by most people. This improvement adds 4K Ultra HD compatibility allowing 4K video signals to pass through and properly output on those massive high-resolution displays. But for now, those displays are massively expensive.
Bottom Line
These new additions are great and necessary as it is expected for major competitors to offer similar improvements. But don't forget that these are Pioneer products and you get great audio experiences as a result. Technologies like the Multi-Channel Acoustic Calibration system and Phase Control do a great job in improving the audio quality by taking more parameters into account when calibrating the speakers. You are also greeted with a simple on-screen overlay that makes it a breeze to make the appropriate configurations.
Pioneer's cheapest offerings like the VSX-523-K are there for people that have very tight budgets. But the true entry-level model to get is the Pioneer VSX-823-K because having network connectivity opens up plenty of other features. Network functionality used to be reserved for high-end and flagship models. With a price tag under $500, it is safe to say that manufacturers really want everyone to experience how neat it is to use your mobile devices with your home theater receivers. The VSX-823-K is simply a cheap way to enable that experience without upgrading your Blu-ray player or HDTV.
Update: There is a newer model > Pioneer VSX-830-K