Sony is a well-known brand that is committed to serving the average consumer by offering all kinds of products in the home audio and video category. While some people see Sony as a premium brand selling overpriced products, Sony strives to be competitive in the entry-level market by offering some decent products at a reasonable price tag. But that doesn't mean that Sony is abandoning their premium reputation because there are plenty of movie enthusiasts and audiophiles that hope Sony can add something interesting to the competition. Sony is not only selling premium HDTVs and advanced Blu-ray player models but they are also tackling the AV receiver market which is important because AV receivers play an important role in driving the cinematic experience. The Sony STR-DN1030 has a mid-range price tag but it has some great features that multimedia enthusiasts should like.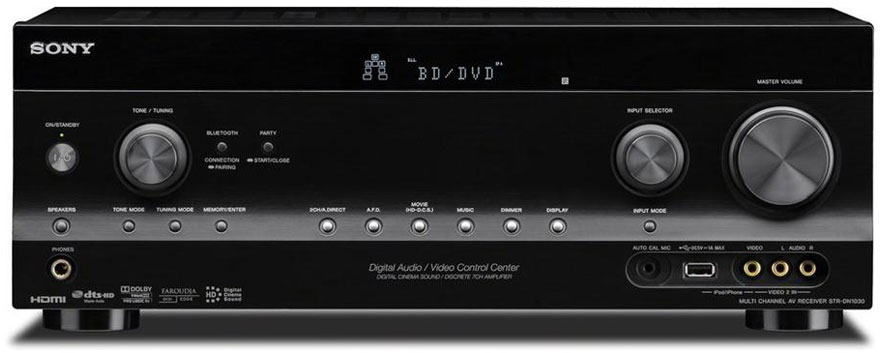 Design
If you are browsing Sony AV receivers at a local store, the Sony STR-DN1030 can be tricky to spot because the front panel resembles some of Sony's cheaper AV receivers. The master volume, input selector and tuning controls all take the form of knobs so there are plenty of control options available up close along with some small buttons below these knobs. The available connection jacks on the front panel are disappointingly limited though. The USB port and video in composite jacks are present but Sony should have added an HDMI port on the front given its mid-range specs. On the upside, these inputs are gold-plated for better connectivity and longevity.
All 5 HDMI inputs are located on the back and are all equipped with 3D pass-through and HD Audio Return Channel including the lone HDMI output. It is best to hook up Sony-branded home theater components and any 3D-enabled devices to the HDMI ports if you plan on setting up a large home theater system. Any extra HD devices can still use the 2 component I/O ports.
Below is the back panel layout. Click on image to enlarge for a clearer view.
Features
The STR-DN1030 is a powerhouse with 7.2 channels totaling 1015 watts. This is the kind of power that is necessary for crisp and clear audio coming from movies and music. The Sony STR-DN1030 can provide this power while giving you the freedom of setting up the room and speakers. The Advanced Digital Cinema Auto Calibration promises a quick and easy speaker set up process where you can hook up the microphone and place it on the desired listening spot so the AV receiver can optimize every speaker taking the distance and delays into account. The end result of a full calibration is pure high definition cinema audio that falls pretty close to a movie theater. Taking advantage of the Front Height mode and 3D effects in 7.2-channel configurations is the trick to broadening the sound stage.
To experience the best that the STR-DN1030 has to offer, it is recommended to play Blu-ray titles rather than DVD titles so the Advanced Blu-ray Disc Audio can kick in by providing decoding support for dts-HD master audio, ProLogic IIz, LPCM and Dolby TrueHD. But for other audio sources, other enhancements can be made by the Sony STR-DN1030 like the sound optimizer which adds some clarity to faint sounds even if the volume level is low.
Compared to the audio enhancements, there are not so many video features so you may need to rely on the other home theater components for better visuals. The least it can do is upscale legacy sources to near HD quality (1080i) which is something not all movie lovers would like but it is better than no upscaling at all. Exclusively for Blu-ray titles, movies can also be watched at 24 frames per second for a cinema-like experience.
Although the STR-DN1030 doesn't provide a lot of ports on the front and back, the STR-DN1030 excels in wireless connectivity features which is definitely the right way to go. Wi-Fi is fully integrated in the Sony STR-DN1030 which means that you don't have to purchase any separate dongle to be free from the Ethernet cable. Connecting to a home router that is connected to the Internet gives you access to popular network services including Pandora, vTuner, Slacker and Music Unlimited. This can be very useful if you don't have any other component that has access to these services.
The wireless connectivity doesn't go beyond these services when it comes to Internet access but a more useful feature is the AirPlay support. AirPlay is an Apple proprietary wireless media streaming protocol that allows iOS devices to stream music to other devices with ease. The STR-DN1030 can receive these streams from supported Apple devices like iPods, iPhones and iPads and play them back immediately. You also have the option to play music or video from these Apple devices through USB connection which offers the advantage of charging the device simultaneously. Sony also made the bold move to implement Bluetooth connectivity in the Sony STR-DN1030 making this AV receiver capable of wirelessly connecting to just about any modern portable gadget within range.
Lastly, the wireless features grant better control of the STR-DN1030 through Sony's very own Network Audio Remote and Media Remote apps. As long as there is Wi-Fi signal in the area, you can use the app to adjust various settings, change inputs or adjust the volume levels. The app comes in iOS and Android versions so most smartphones and tablets should be covered. Using the remote control is still good for controlling the Sony STR-DN1030 too because it has an intuitive graphical user interface.
Bottom Line
The Sony STR-DN1030 is an AV receiver that essentially sacrificed the physical connections for more wireless options. This move actually makes sense because 5 HDMI inputs should be enough for the main home theater components along with some extras. Some people might be turned off by the missing front HDMI port but it would be more sensible to let these portable devices stream music wirelessly anyway. As for the other slight shortcomings like the video features, it is easy to brush those aside since the Sony STR-DN1030 is priced at $500.
Update: There is a newer model > Sony STR-DN1080