Yamaha makes fantastic home theater receivers at different price points but so do the many tough competitors out there. It can also be pretty hard to innovate since many of the new features that home theater receivers introduce often depend on third-party technologies whether it is Dolby for surround sound technologies or Audyssey for sound calibration technologies. Yamaha is one of the few companies in this area to introduce some proprietary technologies that could give their receivers an edge including one huge new feature exclusive for the 2015 lineup which includes the Yamaha RX-A1050 resting in the upper high-end.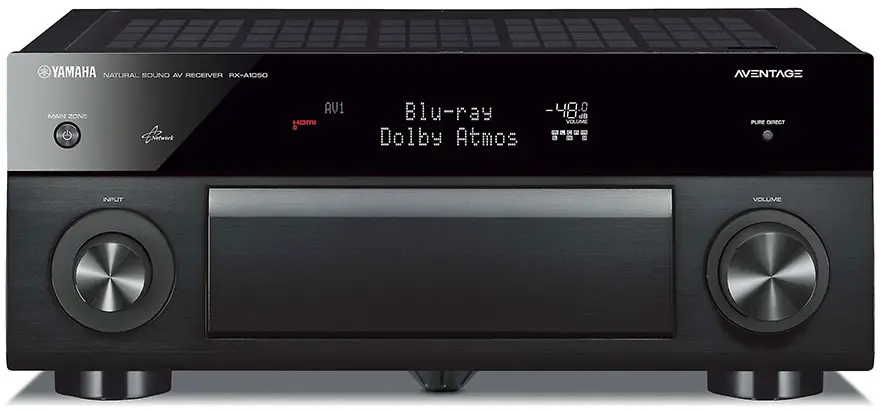 About the Yamaha RX-A1050
The Yamaha RX-A1050 directly succeeds 2014's Yamaha RX-A1040 as the company's home theater receiver in the $1,000 category. It is priced at $1,199.95 which is the price when the RX-A1040 first launched. It is still a 7.2-channel receiver with 110 watts of power and with 8 HDMI inputs and 2 HDMI outputs, the RX-A1050 should offer plenty of headroom for the serious home theater system builder. Those that skipped on the RX-A1040 last year will also get the chance to try out some pretty exciting features.
Below is the back panel layout. Click on image to enlarge for a clearer view.
Comparison with the Yamaha RX-A1040
The Yamaha RX-A1050 is part of the company's big push for its new MusicCast technology which essentially gives the receiver additional wireless features that previous models can never have. It offers one less reason to buy your own multi-room wireless speaker system because the RX-A1050 already serves as a hub that can tie wireless speakers together. The only catch is that these speakers must be MusicCast compliant and so far you only have a single speaker, sound bar, TV speaker base and Hi-Fi components to choose from.
On the upside, the feature is pretty easy to use. There is a dedicated MusicCast app that you can download for free to iOS and Android devices and adding a new wireless speaker or component is pretty straight-forward. While dedicated multi-room wireless speaker solutions are still more popular, the Yamaha RX-A1050 and the MusicCast feature does provide some unique opportunities such as the ability to stream a TV program to various MusicCast speakers set up around the house wirelessly or perhaps plugging in a turntable to the receiver and have that broadcasted wirelessly instead. It isn't just limited to local streaming and Internet services. MusicCast relies on Wi-Fi but Bluetooth is supported as well.
Built-in Bluetooth is another welcome improvement as you no longer have to spend $60 on the YBA-11 Bluetooth wireless audio receiver. On top of that, the RX-A1050 has a new jitter clock for better wireless network performance for both Wi-Fi and Bluetooth connections. Even USB playback sees some performance improvements. Speaking of USB playback, any hi-res lossless formats including 24-bit FLAC, ALAC, AIFF and the usual lossy formats found in USB drive or network storage can be played back without hitches.
After the release of the RX-A1040, Yamaha introduced a firmware update that brings Dolby Atmos support to the fold. With the Yamaha RX-A1050, that functionality comes right out of the box opening up another way to expand the home theater system. If multi-room listening environments aren't your thing, that money can be invested towards creating a better surround-sound experience where you can add two ceiling speakers or special Dolby Atmos speakers to resulting to more realistic sound when watching movies that support the technology. There is also a firmware update that adds DTS:X support as well. Older models will never be getting DTS:X.
Another exclusive feature that cannot be delivered via firmware update to older devices is HDMI 2.0a support. The HDMI 2.0 specification is still futureproof for 4K TVs but version 2.0a introduces High Dynamic Range (HDR) support resulting to noticeably better picture quality. As well practically all other new home theater receivers, the RX-A1050 is HDCP 2.2 compliant as well.
Other minor improvements include a refined volume control unit that lets you adjust the dynamic range and volume levels more smoothly. The GUI and Yamaha's own AV controller app for remote configuring also sees new improvements making the Yamaha RX-A1050 look very fresh compared to its direct predecessor.
Exclusive Features
The RX-A1050 is Yamaha's most affordable receiver that comes with DTS:X support. DTS:X is an alternative to Dolby Atmos where you are not limited to specific speakers. Like Dolby Atmos, DTS:X aims to provide a three dimensional sound environment but without the restrictions of speaker placement. Modern 7.1-channel systems should be able to take advantage of this new technology without much modification. Plus, it can use Dolby Atmos systems as leverage too so you can essentially have a system optimized for both DTS:X and Dolby Atmos content. But in order to take even more advantage of 3D sound, it could be more worthwhile and futureproof to step up to the Yamaha RX-A2050 which supports 9.2-channel setups.
The Yamaha RX-A1050 is also the cheapest Yamaha receiver to have Advanced HDMI Zone Switching which is pretty cool as you can conveniently choose what you want to play on the second zone (both audio and video) without interfering with the main zone.
Performance
The RX-A1050 still relies on the same ESS Technology ES9006 SABRE audio DAC the older model has but the A1050 has new Polymer Multi-layer capacitors made with the help of Rohm technologies giving the audio an added punch. But overall, the improvements in audio quality can really be noticed if you use Dolby Atmos or DTS:X.
Conclusion
Pros:
• MusicCast is a promising multi-room wireless audio solution.
• Supports DTS:X
• Internal improvements make a welcoming improvement to audio quality.
• All set for the mainstream 4K push.
Cons:
• Not many MusicCast speakers to choose from.
• Taking advantage of the new features can be expensive.
Verdict:
Yamaha has succeeded in launching new receivers that have strong potential in putting pressure on competing models. It is good to see the Yamaha RX-A1050 as the entry-level product to get if you wish to take advantage of all those features once you have the budget. That $1,200 investment will be just the beginning to something special.
Update: There is a newer model > Yamaha RX-A1070