Home theater enthusiasts are well aware of the limitless possibilities when possessing a high-end home theater receiver. The more budget conscious consumers are understandably not and will likely settle with home theater receivers that cost less than half the price of these high-ends. That's fine because many reputable manufacturers like Yamaha make fantastic midrange and low-end receivers that share many of the features found in the more advanced models. Yamaha's latest family of AVENTAGE receivers show that even midrange models are pretty futureproof and ready for the 4K world. But saving up for a Yamaha RX-A2050 still has its benefits especially when you consider the improvements over last year's model.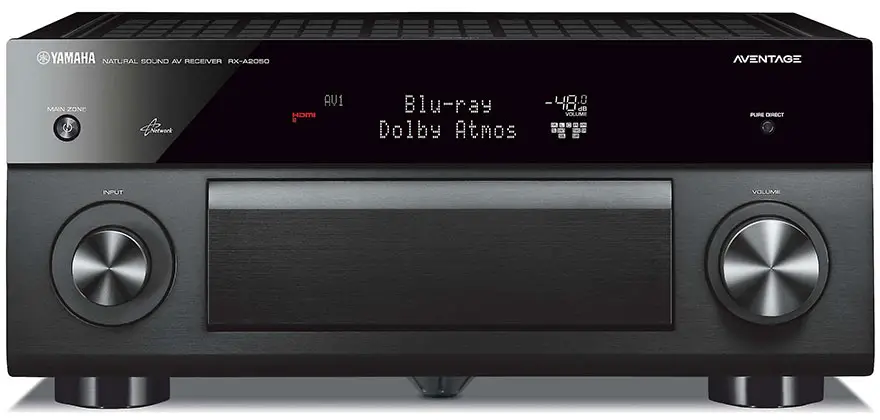 About the Yamaha RX-A2050
The Yamaha RX-A2050 is a fifth generation AVENTAGE model and one of the two available Yamaha receivers with a 9.2-channel configuration. AVENTAGE is the company's studio-grade family of receivers which means that many of Yamaha's most premium technologies can be found on the Yamaha RX-A2050. This explains the fairly high $1,699.95 MSRP. High price also means powerful internals including 140 watts of power to play with 10 HDMI ports (8 in and 2 out).
Below is the back panel layout. Click on image to enlarge for a clearer view.
Comparison with the Yamaha RX-2040
The Yamaha RX-A2050 comes with a huge overhaul of its wireless connectivity features with the new MusicCast technology as the main star. This new protocol relies on Wi-Fi but it is only exclusive to the RX-A2050 and most other models in the 2015 AVENTAGE lineup. The primary theme of MusicCast is wireless streaming and that means the grand vision of having a wireless speaker in every room of the house so you can hear the same track playing anywhere in the house. People are already living that dream thanks to the several multi-room wireless audio solutions readily available today.
While MusicCast looks like a "me too" solution, it also breaks new grounds. One of the limitations of having a traditional multi-room wireless audio system is that you are only limited to streaming local and online music. Since the main hub of the wireless experience is the receiver itself, MusicCast provides the added potential in streaming any audio coming from any source hooked up to the Yamaha RX-A2050. So say you have an old turntable you want to hook up to the receiver; you can stream that to wireless speakers without a hitch. The same goes with TV and Blu-ray player sources. The only condition is that you need to buy special speakers that support the MusicCast standard. Yamaha currently offers a speaker, a sound bar, a speaker stand and a Hi-Fi component so the choices are a bit limited. But on the upside, MusicCast also supports Bluetooth speakers which may have limited range but it is still nice that the RX-A2050 finally comes with onboard Bluetooth. Another upside of MusicCast is its ease of use. To get started, you need to download the free MusicCast app from the Google Play Store or iOS App Store and from there, it should be pretty easy to figure out how to add speakers into the setup. It is also worth noting that you can have a different source play back for each wirelessly connected speaker.
The Yamaha RX-A2050 also counts as a massive upgrade on the surround-sound end which makes the 9.2-channel specification a lot more appealing once you have the budget to expand. DTS:X support via firmware update is the star of the show and the new big format that all the main home theater receivers are embracing in order to stay competitive. The cool part is that it is a competitor and complement to Dolby's own Atmos technology which has been in many of the home theater receivers launched the previous year. Both of these solutions are advanced surround sound solutions that make good use of height channels. By mounting speakers to the ceiling or using upfiring Dolby Atmos speakers, you can create advanced 5.1.4-channel configurations. Exclusive to the RX-A2050 is the ability to set up a 7.1.2-channel Dolby Atmos configuration. DTS:X is a bit more flexible though since you can use it even if you don't have height channels to spare. DTS:X knows how to analyze your existing speaker setup and come up with a nice optimization. DTS:X support won't be coming to the RX-A2040 either so an upgrade is required to use this new feature.
The Yamaha RX-A2040 also wasn't exactly the futureproof solution everyone hoped for because it lacked HDCP 2.2 support which is vital for full support for upcoming 4K broadcasts. The Yamaha RX-A2050 has this support along with the latest HDMI 2.0a specification opening up HDR support so visuals get a nice improvement too if you connect the receiver to a compatible 4K TV.
There are also some nice smaller improvements under the hood including a new jitter clock, a better volume control unit and much-needed UI refresh and some nifty improvements to the older AV controller mobile app.
Exclusive Features
Other than the huge jump in power and number of channels, the RX-A2050 also supports Zone 3 and allows you to assign the second HDMI output to a Zone 4 exclusive for HDMI inputs. Combined with the MusicCast feature, it is possible to come up all sorts of setups in different rooms.
Performance
Many of the internals found in the RX-A2040 are still in the Yamaha RX-A2050 including the ESS SABRE DAC 9006A DAC. This means for standard music, audio quality is pretty similar which is great because the RX-A2040 was already a top performer. The improved jitter clock does improve performance especially when playing music over Wi-Fi or Bluetooth. The YPAO sound optimization technology has been improved as well and works the same way so you could notice bigger improvements if you are upgrading from an older model even without changing your speaker configuration.
Conclusion
Pros:
• MusicCast opens up another way to expand sound to other rooms and it covers more than just music.
• DTS:X now in the mix.
• HDCP 2.2 and HDMI 2.0a support make it ready for the 4K world.
• The minor UI and performance improvements make the RX-A2050 feel like a huge leap from its predecessor.
Cons:
• MusicCast hardware ecosystem still pretty young.
• Taking advantage of DTS:X and/or Dolby Atmos requires extra cash.
Verdict:
Yamaha did the best they can in making the Yamaha RX-A2050 feel like a brand new receiver. It may look like the older model but it has the potential to stay relevant even if the company decides to introduce newer models for 2016.
Update: There is a newer model > Yamaha RX-A2070