Flagship home theater receivers aren't everyone's cup of tea. If you head to the manufacturer's website and check out the product lineup, you might be able to find something far more affordable while still meeting your needs. Yamaha certainly has a flagship model under the AVENTAGE brand called the Yamaha RX-A3040 but there are a few other models with the AVENTAGE label too. Still, it is worth getting to know this $2,199 AV receiver as it represents exactly where Yamaha is in a technological standpoint.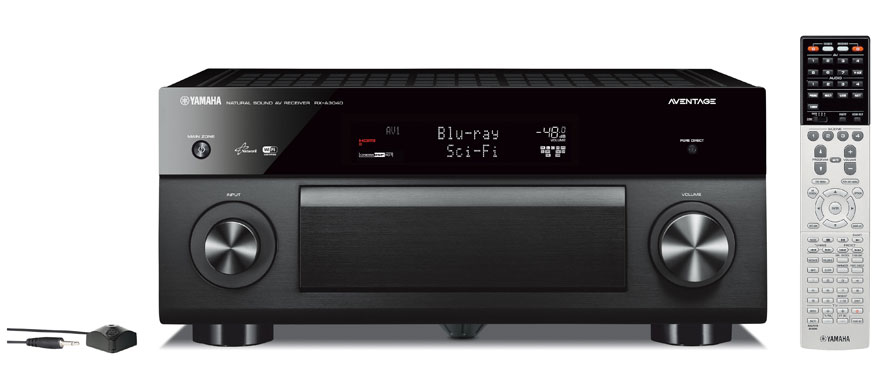 Design
With so much power packed into this receiver, the Yamaha RX-A3040 is massive weighing 40 pounds. Although it is slightly lighter than its predecessor, it pretty much uses the same exclusive components that you won't find in any non-flagship AVENTAGE receiver. The cross frame twin heat sink has a double bottom for added durability. This level of rigidness eliminates those minor vibrations resulting to the best audio quality possible. For extra stability, the Yamaha RX-A3040 has a fifth foot under the receiver. Yamaha refers to this wedge as the Anti-Resonance Technology.
Yamaha made some minor changes to both the front and the back of the RX-A3040. If you plan to connect any components using an optical cable, you have to connect them at the back as there is no longer an optical input on the front. The USB port, composite inputs and MHL-enabled HDMI port remain available though and those matter more. Above these ports is all sorts of buttons to use for selecting inputs or controlling a zone. If you still rely on the old S-Video port, you should go for the older RX-A3030 model because Yamaha removed all traces of this port from the Yamaha RX-A3040. Yamaha also took away a single set of component inputs so you only have 3 to work with. The 7 HDMI inputs should offset that loss though since these are the ports you will use to hook up your 4K-supported components.
Below is the back panel layout. Click on image to enlarge for a clearer view.
Features
The RX-A3040 is a 9.2-channel receiver but it doesn't necessarily mean that you should only get this if you have a long term goal of setting up multiple zones. Even if you have a 7.1-channel setup, you will appreciate that true cinematic experience that high-end receivers go close to delivering. It is even more noticeable if you are playing a recent movie like the Blu-ray version of Edge of Tomorrow since these movies come with DTS-HD Master Audio. A proper speaker setup with the Yamaha RX-A3040 should deliver a very spacious soundstage with lively sounds that will really make you feel like you are in the movie. This improvement is due to the higher rated output power of 150 watts per channel and more powerful ESS Technology ES9016 Sabre 32-bit Ultra DAC. This DAC is more advanced than the ES9006 24-bit DAC found in the cheaper RX-A2040.
Things can get quite complicated when setting up a small or large surround system depending on the size and shape of the room. With the RX-A3040 primarily targeting hardcore enthusiasts and audiophiles, these people should know how to properly set up and optimize each speaker. But the upgraded YPAO calibration system makes short work of the process. Unlike non-flagship Yamaha receivers, this YPAO technology comes with 3D, Multipoint and angle measurement in addition to the Reflected Sound Control. You still have the option to apply some tweaks like Subwoofer Trim, YPAO Volume and Virtual Dialogue Lift to improve the sound imaging and overall audio quality at lower volumes. Playing FLAC files is a rewarding experience too because the high-resolution music enhancer dramatically improves the musicality of the sound.
Having such a powerful receiver means that you can do wonders if you have more than 5 connected speakers. Also exclusive to Yamaha flagships like the Yamaha RX-A3040 is the CINEMA DSP HD3 technology which makes good use of the front presence channels to expand the sound field even more vertically. As a result, 9.2-channel setups with CINEMA DSP HD3 really sound great with this receiver. This also opens up 11.2-channel preout support which is something the RX-A2040 lacks. There is also the simpler Virtual CINEMA FRONT option if you prefer lining up your speakers and facing them all towards you while still delivering surround-sound experience.
All of the features of the RX-A3040 mentioned so far aren't new but this receiver boasts several key additions that make it feel more complete. After updating the receiver's firmware, you also have the Dolby Atmos option which pushes surround sound to the next level. It has steep requirements as you need ceiling speakers but once set up,the soundstage improvements can immediately be felt.
Built-in Wi-Fi was one of the major features missing in the entire 2014 Yamaha AVENTAGE lineup. The Yamaha RX-A3040 is ready for your wireless needs and you can set it up in two different ways. The first way involves your router which will act as the hub for all your home devices including the receiver. You can stream music from an Android or iOS device with ease thanks to AirPlay and HTC Connect support or you can use the free AV Controller App which broadens the compatibility and lets these mobile devices configure or command the receiver remotely too. Since the receiver can use the router's Internet connection, you can also let the receiver stream from services like Spotify, Rhapsody, vTuner and more. The second way to use the Wi-Fi takes away the online streaming option but it also doesn't involve the router. Instead, the RX-A3040 becomes the wireless hotspot allowing mobile devices to connect to the receiver so you can issue direct local streaming or remote commands.
Full 4K support is the other major selling point of the 2015 AVENTAGE lineup. All the HDMI ports on the Yamaha RX-A3040 are HDMI 2.0 ready so you can enjoy 4K content at 50/60p with the proper color optimizations.
Bottom Line
The Yamaha RX-A3040 is priced at $2,199 which is about $500 more than the RX-A2040. The RX-A2040 is a beast in its own right and even has Dolby Atmos, HDMI 2.0 and Wi-Fi support. But that $500 premium gets you 11.2-channel preout, higher output wattage and a few exclusive technologies that push sophisticated speaker setups to their limits.
Update: There is a newer model > Yamaha RX-A3050