Yamaha makes some of the best affordable home theater receivers but like the other big players in this highly competitive market, Yamaha has to improve their lineup every year or else new buyers will consider other brands. Last year, the Yamaha RX-V375 received rave reviews from the big critics and while this model is still available for an attractively cheap price, Yamaha saw the need to release a slightly improved model – the Yamaha RX-V377.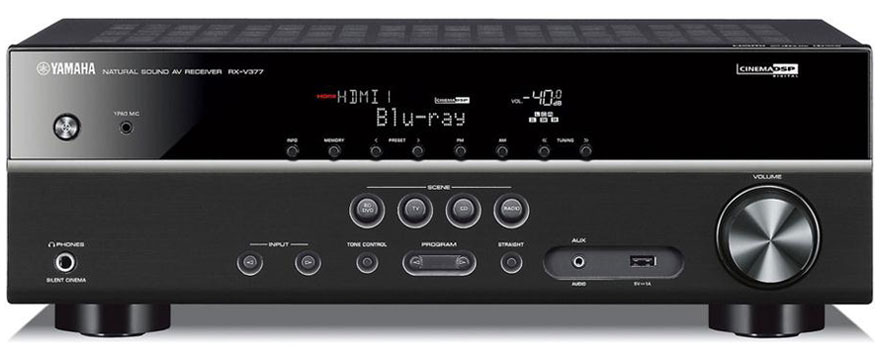 Design
Just like the transition from the RX-V373 to the RX-V375, the Yamaha RX-V377 looks and even weighs the same as its predecessor. It has a similar design to the slightly more expensive entry-level models so you get that assurance that Yamaha didn't sacrifice on materials and build quality. In terms of looks, the Yamaha RX-V377 is a fine companion to any type of black-themed home theater system.
The RX-V377 presents you with a simple arrangement of buttons laid out in 3 rows. You have a few of the common AV receiver buttons on the top area just below the info display and a few more common and larger buttons on the very bottom including the input select controls. There is only a volume knob but picking an input source is still very easy thanks to the 4 SCENE buttons. These custom buttons have been present in Yamaha receivers for quite a long while and they still have the same function. You can assign each SCENE button an input source along with the preferred DSP mode.
The iPhone continues to be a best seller while the iPod remains quite popular today so it shouldn't be so surprising for the Yamaha RX-V377 to still have a USB port specifically made for these devices. Since a digital signal is passed between the mobile device and the receiver, no signal is lost so you get great audio quality. Once the cable connection has been established, the Apple device immediately charges and you can optionally control the music playback using the receiver's remote control.
The back of the RX-V377 also bears close resemblance to the older models all the way down to the placement of these connection ports. But the rather strange thing is the omission of a single optical digital audio input leaving just one available. That should be sufficient since there are also 4 HDMI inputs available and a single HDMI output but it is still puzzling nevertheless. There are also only 3 composite video inputs instead of 4 found on the predecessor but it shouldn't be a big deal.
Below is the back panel layout. Click on image to enlarge for a clearer view.
Features
All of Yamaha's 2014 versions of the RX series including the Yamaha RX-V377 introduce an intriguing feature that has been around in their sound bar products – Virtual CINEMA FRONT. This setting can be useful if you have difficulty setting up your 5.1-channel speaker system. With this technology, you can try placing all of your speakers on the front facing the same direction but still get that surround sound feeling and it works surprisingly well. You can still use Yamaha's tried-and-tested YPAO sound optimization feature which automatically adjusts the settings of each speaker depending on its positioning. It can analyzes the room acoustics quite accurately so be sure to apply the optimizations right after you finalized your speaker setup.
The rest of the features that made the Yamaha RX-V375 great are still present in the RX-V377. It employs a low jitter PLL circuit and discrete amp configuration for optimal sound quality and it maintains its rated output power at 100 watts. The CINEMA DSP technology continues to play a role in handling HD Audio sources including DTS-HD Master Audio and Dolby TrueHD. Bass levels sound reasonably well thanks to the Subwoofer Trim Control. Adaptive DRC or Dynamic Range Control still does its job in normalizing the volume level across varied program segments and sources. Playing MP3 files also sounds better than expected because of a technology called Compressed Music Enhancer which uses some fancy digital signal processing techniques to restore some of the details lost from compression. Of course, listening to lossless formats like FLAC is still recommended. Do note though that the Yamaha RX-V377 may struggle to play at high volumes. This is just one of the few sacrifices you have to deal with when getting any entry-level AV receiver.
The 4K/3D passthrough specification for each HDMI port is retained ensuring that the RX-V377 plays nice with the latest 4K and 3D TVs, Blu-ray players and other recent home theater components. 4K is still a young technology but it is slowly picking up so it is good to prepare in advance.
Even with the addition of a brand new feature, the Yamaha RX-V377 still manages to operate without consuming too much electricity. To maximize efficiency, you can turn on the ECO mode feature and the RX-V377 will do the rest. This instantly cuts the power usage by 20% and you can have it save even more power by making it shut down automatically on idle after a specified duration.
The only downside is the lack of network connectivity options which is understandable since this model is so cheap. But you might want to step up to a slightly higher-end model just so you can enjoy the ease of wirelessly streaming music or videos from your mobile device to the AV receiver. If you already possess the Yamaha RX-V377, the best you can do is buy the YBA-11 wireless adapter. This only adds Bluetooth connectivity so your range will be limited but at least a vast majority of devices can stream music to the receiver with ease.
Bottom Line
The Yamaha RX-V377 is pretty much one of the top candidates for a home theater receiver that could be obsolete in the next few years due to its lack of networking features. The good news though is that you won't have to spend a fortune on a receiver with a reputable brand. This is still a Yamaha receiver and it is designed well for folks that simply need a home theater receiver to bring their basic speaker setup to life. With the new Virtual CINEMA FRONT feature, the Yamaha RX-V377 is also ideal for small rooms.