Midrange and high-end home theater receivers cost a great deal of money so it wouldn't make much sense for average consumers to buy a new receiver every year. Yet companies including Yamaha insist on refreshing their products across the board yearly. One obvious reason as to why these companies do it is because of competitive purposes. But it also serves as a reward for people that don't want to buy a new receiver until it has more than enough of the desired features. The Yamaha RX-V575, for instance, was a fairly powerful receiver for its intended market but it lacked built-in Wi-Fi which was something that is increasingly becoming present in entry-level receivers. While Yamaha isn't ready to bring it to their fine entry-level products, it is one of the main additions to the Yamaha RX-V577.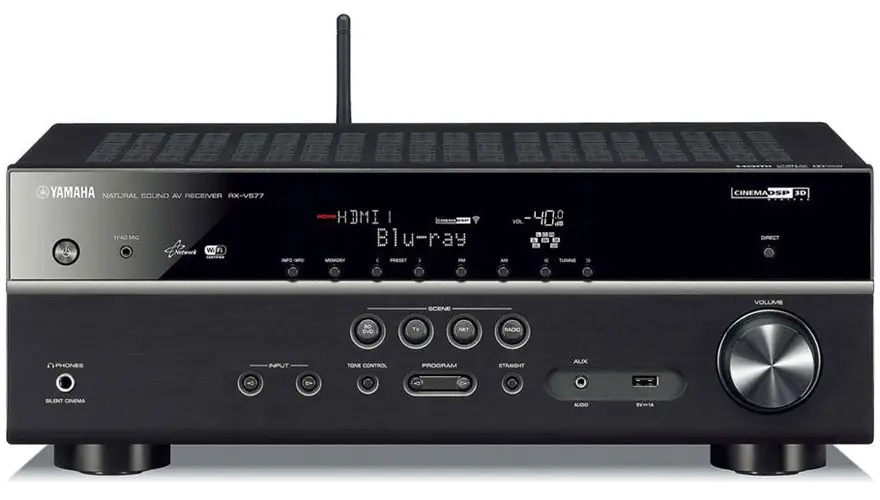 Design
Like most other companies releasing refreshes to their product lineups, Yamaha isn't doing anything radically different from their previous designs. The Yamaha RX-V577 is meant to be a minor upgrade over the RX-V575 after all so it makes perfect sense to retain not just the overall look of the receiver but also most of the internals.
Starting from the front, the Yamaha RX-V577 should look very familiar even to people jumping from an entry-level Yamaha receiver. Those coming from a competing brand might be puzzled by the lack of an input select knob. Those that like to operate the receiver using the front controls are encouraged to use the simple input select buttons on the very bottom or the 4 SCENE buttons for even better selection. By default, you can switch directly to the media player, TV, Internet and radio source on demand and it will even select the appropriate DSP surround mode so there is no need to fine tune your speakers after you are done watching a TV episode and want to proceed to a Blu-ray movie. These buttons can be customized to your liking too. The rest of the buttons are pretty ordinary and you won't find many front panel connection ports. With just a USB port, aux input and a phones jack on the front, the lack of an HDMI port is a bit disappointing.
It is refreshing though to at least see 6 HDMI inputs on the back rather than 5 making it possible to set up a slightly bigger home theater system. The number of optical digital audio inputs have been reduced to 1 while the other common ports including the single HDMI output remain unaffected.
Below is the back panel layout. Click on image to enlarge for a clearer view.
Features
Most recent home theater receivers priced above $500 have some sort of Wi-Fi functionality so it is nice to see Yamaha finally entering this segment. The connectivity that this brings to the receiver won't exactly turn your cheap LED TV into a "Smart TV" but it does open up the convenience of true wireless audio streaming from other devices in the house. The RX-V577 retains its supports for Apple's AirPlay protocol so you can enjoy the ease of selecting a track stored on the iPod, iPhone, iPad or computer running iTunes and having it play with high quality on the home theater system. It also supports HTC Connect which is great for HTC One owners and it is DLNA certified so a bunch of other modern laptops and computers can interact with the Yamaha RX-V577. Because the receiver also supports Wi-Fi Protected Setup, it is very easy to integrate the receiver into a secured Wi-Fi network. It uses the same network security standard that many routers use and the RX-V577 even has its own WPS push button. Whether you are connected via Wi-Fi or sticking to the speedier and more traditional Ethernet, you gain limited access to the Internet. On its own the Yamaha RX-V577 can access Spotify and Pandora which should cover most audio streaming fans. Bluetooth, on the other hand, is still missing so you will still need the YBA-11 Bluetooth accessory if you wish to bring older devices into the fold.
iOS and Android users can do more than just convenient audio streaming. With the free AV Controller App available on the Google Play and iTunes App Store, you can use the smartphone or tablet as an advanced remote control where you can configure the receiver to your liking or even switch to a specific SCENE mode.
The other big new addition that you'll find in the RX-V577 is an innovative mode called Virtual CINEMA FRONT. It isn't for everyone because most people want to make sure they position the surround speakers in an optimal position behind the listening area. But if you are the type to put all 5 speakers and the subwoofer in the same row all facing your couch, you can actually enjoy a similar surround sound effect with Virtual CINEMA FRONT enabled. If you are familiar with the way the Yamaha sound bar handle virtual surround sound, you may find that this new feature works similarly. This is a great feature to have if you have limited speaker placement options.
Yamaha still prefers its YPAO Sound Optimization feature to calibrate the speakers connected to its receivers and it does a pretty decent job. You don't have to worry about positioning or even its fancy name because it works like other calibration methods in the sense that you have to position the microphone on the listening area and connecting it to the front of the receiver. After a few minutes, the process is completed.
Spec-wise, you still get the same 7-channel surround sound with 115 watts per channel complete with Burr-Brown 192 kHz / 24-bit DACs and full Dolby TrueHD and DTS-HD Master Audio decoding support. The overall audio quality is a bit better though thanks to a new low-range enhancement technology that can make the bass reproduction a bit richer even if you use smaller speakers. You still get the option of a Zone B output if you want to set up a simple 2-channel speaker system in another room. 4K and 3D support remain as well making the Yamaha RX-V577 a well-rounded package.
Bottom Line
Adding Wi-Fi and a couple of extra features to the Yamaha RX-V577 is really something Yamaha had to do to make their midrange receivers a bit more desirable. But Yamaha deserves praise for keeping the price at $549.95 which happens to be the same price of the RX-V575 when it launched the previous year.