Yamaha is one of the several companies that manufacture home theater receivers for just about every type of consumer. The company's two main product families include RX-V series which starts at $299 and goes up to $849 and the more prestigious AVENTAGE AV receivers for enthusiasts with most of them priced above $1,000. With that translating to several products, the Yamaha RX-V677 looks well-positioned in the midrange with a $649 price tag so the appeal is pretty broad. It is also a very competitive price range for a lot of manufacturers so it is natural for these models to possess a good variety of features backed by adequate performance for typical home theater setups. The RX-V677 strives to be greater than the sum of its parts.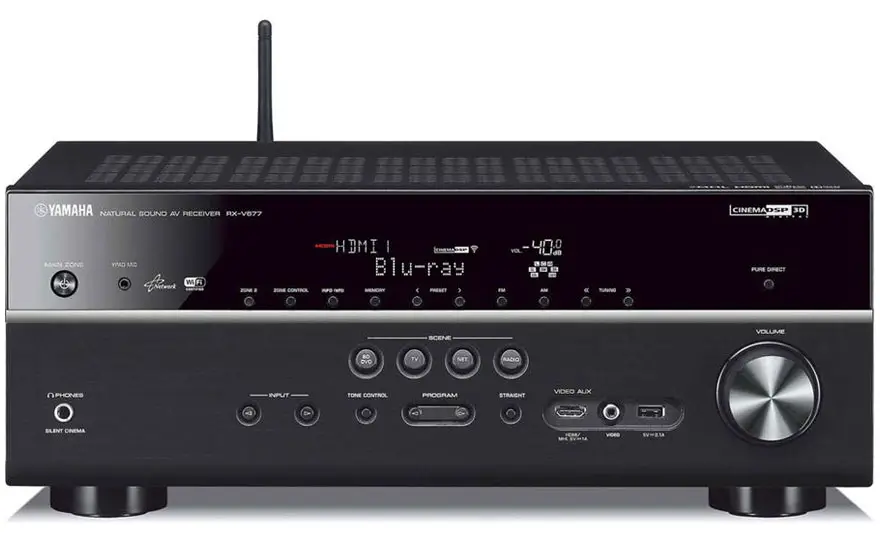 Design
Like its predecessor, the front of the Yamaha RX-V677 makes a very good first impression because it has that premium design with a brushed-aluminum finish but the button layout caters more to beginner users. The typical controls you would normally see on an AV receiver aren't so large but the 4 SCENE buttons are a bit bigger because they are quite powerful and somewhat eliminates the need for an input selection knob. If you connect the AV receiver to the Internet and connected the TV and media player to the appropriate connection ports, you should be able to switch to these sources easily by pressing the indicated SCENE button. There is also a dedicated SCENE button for radio. But if you want to quickly switch to other home theater components hooked up to the RX-V677, you can reconfigure these SCENE buttons to your liking. The best part of these special buttons is the fact that you can also assign a DSP surround mode to each source making each SCENE button act more as a preset.
The bottom part of the front panel lies a few connection ports but the most important one has to be the front HDMI port which makes it easy to connect all of those modern gadgets that support the MHL standard. Cheaper Yamaha receiver models lack this front port. Other than the repositioning of the Ethernet port, the back of the Yamaha RX-V677 remains the same with 5 HDMI ports available as well as 1 HDMI output for the TV.
Below is the back panel layout. Click on image to enlarge for a clearer view.
Features
If you are on a tight budget but want a 7.2-channel AV receiver with at least 100 watts per channel and multi-zone audio support, this is the receiver to get. The older RX-V675 receiver has these features too and it probably costs even less but the RX-V677 has a few nice improvements that makes it a much better pick. It is the most affordable Yamaha receiver that has the latest HDMI version so you not only get complete 4K support for existing content but you can also properly view 4K Ultra HD at the more futuristic 50/60p frame rates. This is only a major deal if you intend to buy a 4K display with HDMI 2.0 support in the future. There will also be a firmware update to support future video signal types that can improve the overall image quality.
While the modern 4K support is something that a lot of current AV receivers have, the Virtual CINEMA FRONT feature is a bit more unique and is present in other Yamaha receivers too. This feature simply allows the placement of the two surround speakers next to the front speakers so they all face the same direction. When connected to an ordinary home theater receiver, this type of setup cannot reproduce the surround sound effect making those extra speakers a bit redundant. But with Yamaha's Virtual CINEMA FRONT feature enabled, you get a virtual surround sound effect that mimics the effect you get from sound bars. Consider it as an alternative to the Yamaha's sound bar products and it can be useful if you already have a 5.1-channel speaker system but have trouble setting it up because of limited space.
Whether you plan on taking advantage of this feature or not, it is still recommended to calibrate your speakers and that is where the YPAO Reflected Sound Control Sound Optimization can help. This is an enhanced version of the YPAO technology and is exclusive to the Yamaha RX-V677 and more advanced models. It not only makes use of the microphone to optimize each speaker but it also corrects early reflections to make the audio quality up to studio standards. You may also apply YPAO Volume to add some loudness to low volume levels which can be useful when enjoying audio and video content at night.
The RX-V677 is fairly strong on the network connectivity features because of its built-in wireless LAN – something that was surprisingly lacking in the previous model. With this addition, you are no longer forced to keep the receiver at arm's length of the wireless router just to connect it using a standard Ethernet cable. The Yamaha RX-V677 becomes a true wireless hub where you can feed it some music or other multimedia content from most portable gadgets. Apple devices or computers with iTunes installed get the best treatment thanks to AirPlay support while HTC devices can link to the receiver through its own HTC Connect protocol. It is DLNA-certified as well so Windows 8 PCs, laptops and tablets can stream through Windows Media Player. The only devices that are not invited to interact with the RX-V677 is the ones that purely rely on Bluetooth. You could buy the YBA-11 Bluetooth accessory but quite frankly, it isn't worth the extra $70. Having an iOS or Android device is already enough especially since there is a free AV Controller App that can turn your smartphone or tablet into a cool remote. Plus, the receiver can access Spotify, Pandora, Rhapsody and SiriusXM Internet Radio independently.
Another good reason to consider the Yamaha RX-V677 over the cheaper 7-channel models is the ease of setting up a second zone. With Intelligent Amp Assign, you can easily transition from a 7.1-channel system to a 5.1-channel system with 2 extra channels in the other room all without the need to switch speaker cables.
Bottom Line
The lack of onboard Bluetooth may turn off a small crowd but it is safe to say that the Yamaha RX-V677 is feature-complete for the $650 level and has some great futureproof features that may make Yamaha's successor seem like a minor upgrade. There is no telling for sure where Yamaha will go from here but the RX-V677 is competitive enough and should be a fine addition to a modern home theater system.