Denon has unveiled one of the most versatile AV receiver loaded with latest networking abilities that is also very Apple friendly. The Denon AVR-2312CI comes with AirPlay that will enable you to upload your entire iTunes music libraries and play it directly. This IN-Command receiver offers control of all your home entertainment and access to your content easily.
The AVR-2312CI features a 7.2 channel receiver that outputs 105-watt per channel. It has 7 HDMI inputs and 1 output. (The AVR-3312CI has 2 outputs) This receiver is 3D ready. It has a proprietary Party Mode Plus that will enable music playback in up to 5 different rooms simultaneously.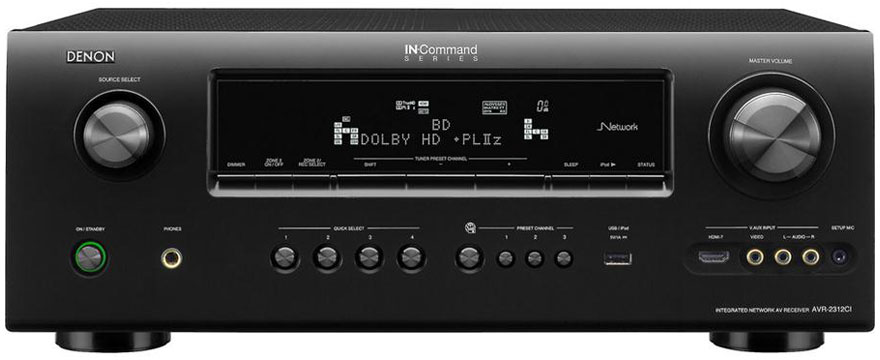 Design and Connectivity
The Denon AVR-2312CI has a slightly new look with its sleek matt black, and slightly curved front panel towards the top. The silver labeling, GUI on the black background creates a nice modern feel. The power and volume knobs on either side of the panel together with the 8 easy access buttons are designed in a clean, uncluttered manner. The earphone jack and the auxiliary inputs and set up mic inputs are also located on the front panel. The GUI and volume graphics can overlay on 3D video.
This receiver offers a host of connectivity options and networking abilities. You will get the usual must-haves like the Composite and Component ins and outs. Included are also the Digital ins and outs with Ethernet, PC and USB ports. The USB port is located in the front panel.
If you own other DLNA products, you will be able to connect them to this DLNA-compatible receiver with ease. You can network your PC, gaming console, camera, camcorder and playback data through the AVR-2312CI.
If you are big on Windows 7 based devices, you can also hook up your phone or PC to your display device. You can get firmware updates through the Ethernet connection, or listen to Internet Radio and movies. The AVR-2312CI collaborated with Rhapsody, Pandora, Napster and Flickr to give you the best of what online media content can offer. This receiver also supports FLAC.
The iTunes store holds a Denon App that you can download to have basic control functions of the AVR-2312CI. The controls can be used in all zones. The proprietary remote has keys that can glow and is a learning remote.
Below is the back panel layout. Click on image to enlarge for a clearer view.
Features
The Denon is a 3D compatible receiver that offers you 7.2 channels of amplification. It pumps 105 watts per channel to each speaker. It has 2 outputs for subwoofer to give a more balanced low frequency effect.
Denon has improved on the multi-zone and CI controls. You are now able to have bass and treble controls for Zone 2. The mono and stereo controls are also available for Zone 2. You can now have a default or preset volume for Zone 2 pre-outs.
To set up your speaker configuration, you can use the Audyssey Dynamic MultEQ XT. Especially when you have an odd shaped room, the 8-point technology will give you the best configuration. They have high-resolution equalization filters for subwoofers. The MultEQ XT will automatically customize your home theater system to give you clear and balanced sound.
This receiver has the prerequisite Dolby Pro Logic IIz, Dolby TrueHD and DTS-HD Master Audio to deliver the high-resolution audio encoded in the soundtracks. Since you will get extra front and back height effect channels, there will be a sense of realism, a sense of being at the scene.
Two other features that some folks may like is the Audyssey Dynamic Volume and EQ. This will come especially handy if you like to have a more balanced sound. Dialogue and sudden background noise like explosions will be smoother sounding and you do not have to run to the remote to turn the volume up or down because your kids are asleep.
Performance
The Denon AVR-2312CI is a 3D compatible that handles fast-moving picture with very little judder, ghosting or artifacting. Details on the blu-ray version of The Pirate of the Caribbean: On Stranger Tides 3D were impressive. The textures of fabrics, skin and hair were sharp and very clear.
There was plenty of depth and separation between foreground and background. The distances between the characters and objects were very proportionate. This gives the extra edge of realism. The swinging ropes and the coconuts that were going across the screen looked like they came from behind you. Snakes and mermaids appeared as if they were going to pop out of the screen. The intense feeling of being at the scene was tremendous.
Colors of the costumes, foliage and skin tone remained accurate and natural. Saturation was excellent. Black levels were rich and luscious. Contrasts of the shadows were very good. Dark fabrics and hair were easily discernible against the dark night sky.
Sound quality, as expected of a Denon, was top-class. Take for example the blu-ray version of Celine Dion: A New Day. The enveloping effect of the Dolby TrueHD 5.1 was mind-blowing. The sense of realism was quite overwhelming. The dynamics and directionality of her voice and orchestra really made you feel like you were at the concert.
Audio treatment and fidelity were strong. The trebles were clean, clear and airy. Mids were pleasing and maintained clarity throughout the recording. The basses were robust and strong, delivering pumping soundtrack, song after song.
Conclusion
The Denon AVR-2312CI delivers excellent sound performance that is full of details and will blow you away. This is a definite choice if you are looking for a mid-range receiver that has top-of-the-line features, networking capabilities and can handle a party as well.
Denon AVR-2312CI
Enjoy Free Shipping & Secure Shopping