To keep audiophiles ears humming with expectation Onkyo's 2016 line of advanced RZ Series AV receivers comes with upgraded and customized capacitors and Onkyo's premium amp circuitry so as to deliver high-current power needed for the most demanding of action movies and full orchestral works.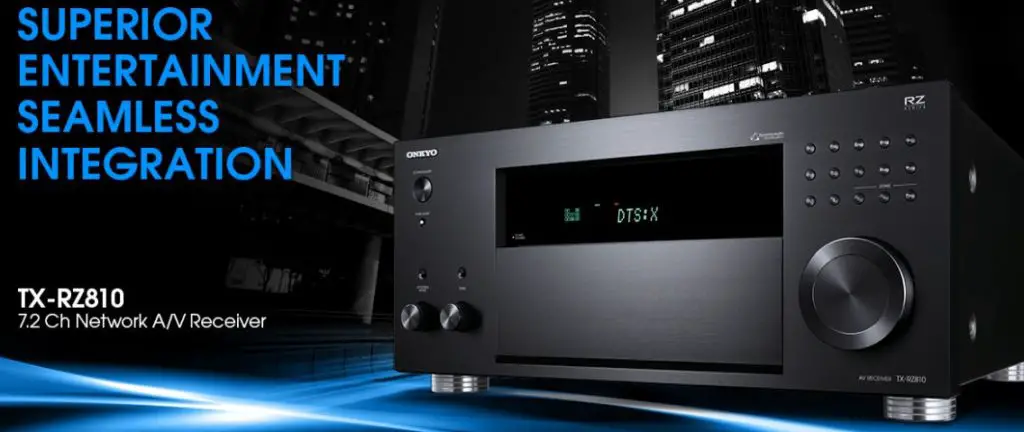 The top two models – Onkyo TX-RZ810 (MSRP $1399) and Onkyo TX-RZ710 (MSRP $1099) are both THX Select2 Plus-certified for theater grade performance and are ready to decode Dolby Atmos and DTS:X surround formats. Onkyo has introduced separate analog amplification and digital processing blocks as well as solid copper bus bars that limit interference and patented Vector Linear Shaping Circuitry (VLSC) on all channels for noiseless digital to analog conversion for the TX-RZ810. There are 8 HDMI inputs and two outputs making it possible for two 4K/60 Hz video sources to be viewed in separate rooms.
Both the AV receivers can serve the entire home with FireConnect powered by Blackfire wireless technology which mirrors analog and digital audio on a compatible wireless speaker.
At the lower end of this range is the Onkyo TX-RZ610 (MSRP $899). It features a 7.2-channel network A/V receiver that delivers 100 W/ch into 8 ohms. However it does not have THX certification and some multi-zone connectivity. To maintain a similar audio standard Onkyo has  included high-quality components like a massive power transformer, custom-spec capacitors, and discrete non-phase-shift amp circuitry. This high-current design enables full-audio reproduction down to 10 Hz while improving control of speaker drivers for full range sound.
The 3-year warranty of these models also proved to be a fantastic selling point especially since people aren't expected to upgrade their home theater receivers every year.
https://av-receivers.net/wp-content/uploads/avr-logo-500px.png
0
0
avguru
https://av-receivers.net/wp-content/uploads/avr-logo-500px.png
avguru
2016-11-22 14:13:23
2016-11-20 14:35:05
Onkyo Refreshes RZ line of AV Receivers for 2016